Biscuits and Gravy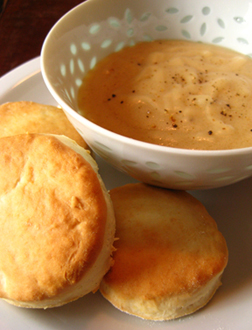 Biscuits and gravy are a Southern staple, right up there with grits and sweet tea. The best thing about these often-found menu items is that it's OK for all of them to make an appearance at any meal, not just breakfast.
My biscuits and gravy were prepared for breakfast this time—very, very early on a Sunday morning. This is the only excuse I can come up with for using Bisquick mix instead of making the biscuits from scratch. Yes, my grandmothers would be horrified.
The truth is that I wanted to focus more on the gravy, because that is one item that I lack experience making. After barreling through the near-fatal (for the gravy) experience with the whole "make a paste, gradually add water, stir constantly" steps, I was left with a surprisingly rich gravy. It may have been a little lumpy—but lumps are good.
Try this gravy using the recipe below, or give it even more flavor by adding browned veggie sausage crumbles, such as Gimme Lean brand. And for all you purists who would never dream of making your biscuits from Bisquick, try this good ole American Biscuits recipe.
White Gravy
1/2 cup vegetable oil
3 cloves garlic, minced
1/4 cup chopped yellow onion
1/2 cup all-purpose white flour
4 tsp. nutritional yeast
4 Tbsp. soy sauce
2 cups water
1/2 tsp. sage
1/2 tsp. salt
1/4 tsp. ground black pepper
Extra flour (optional)
Extra water (optional)
Put the vegetable oil in a small saucepan over medium heat. Add the garlic and onions and cook for about 2 minutes, or until the onions are translucent.
Add the flour, yeast, and soy sauce to make a paste.
Add the water gradually, stirring constantly. Bring the gravy to a boil on medium to medium-high heat, continuing to stir. Boiling will help the gravy to thicken.
Add the sage, salt, and pepper and stir until well mixed.
If the gravy is too thin, add 1 to 2 tablespoons of flour to thicken, or if it is too thick, add 1 to 2 tablespoons of water.
Respond