'Beef' Strips Over Pecan and Cranberry Pilaf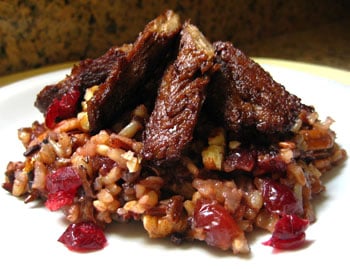 Cranberries make many of us think of the holidays, and with their peak season falling from October to about December, it's not surprising that they are most popular during the fall and winter. But with dried cranberries, frozen cranberries, and cranberry juice readily available year-round, you can enjoy the tart little berry anytime. This makes me happy.
We've had a cloudy—and allergy-filled—couple of days here in the South, and I think I'm in need of something warm and comforting with just a hint of sweetness. A chef friend of mine passed this recipe along for "Beef" Strips Over Toasted Pecan and Cranberry Pilaf, and I decided that this is the perfect time to try it.
Two things from my childhood, other than the cranberries, immediately jumped out at me: pecans and wild rice. My mom would make us the best pecan pie every Thanksgiving—which I've tried to replicate, but with little success—and now I think of them every time I eat pecans. I also remember my mom making the boxed wild rice—you know, the one with the seasoning packets included. At the time, it seemed so exotic and fancy! I now buy a whole-grain wild rice blend, minus the seasoning, because with this recipe you add plenty of your own.
The red wine reduction and cranberries in this recipe add just enough sweetness, which is well balanced with the earthiness of the toasted pecans, thyme, and wild rice. The result is flavorful and comforting—just what I need.
'Beef' Strips Over Toasted Pecan and Cranberry Pilaf
1 cup pecan pieces
1 cup red rice (or any other exotic or wild rice)
2 cups vegetable stock (or amount specified by package directions)
2/3 cup dried cranberries
2 sprigs fresh thyme
1 bay leaf
2 Tbsp. soy margarine
Salt and pepper, to taste
•Toast the pecans in a dry sauté pan and set aside. Toast the rice in the same pan for 5 minutes, or until it "pops" and smells like popcorn, being careful not to burn it.
•Add the stock, cranberries, thyme, and bay leaf to the pot, bring to a simmer, and cook for 20 to 30 minutes, or according to the rice's cooking directions, until the rice has softened and absorbed the liquid. Fold in the toasted pecans. Add the margarine and season with salt and pepper.
For the 'Beef' Strips:
1/4 cup vegetable oil
1 8-oz. pkg. Morningstar Farms Meal Starters Beef Strips
1/2 tsp. dry thyme
1/4 cup red wine
Salt and pepper, to taste
2 Tbsp. soy margarine
•Heat the oil in a sauté pan.
•Add the "beef" strips and sear on each side for about 3 minutes, until crispy. Add the thyme and wine, then simmer for 3 minutes, or until the liquid has reduced by 2/3.
•Season with salt and pepper and remove from the heat.
•Stir in the margarine to create a creamy sauce.
•Serve over the pilaf and enjoy!
Makes 4 servings
Respond