PETA Eats: 5 Delicious Office Lunches
Here at PETA, we live in a bit of a bubble: For the eight glorious hours of each workday, we get to be in an environment entirely free of animal products. No fur, leather, or silk in our business-casual attire. No milk, eggs, or meat in our office fridges. It's a little bit like we imagine the future to be.
Being steeped in a vegan lifestyle on a daily basis, we've gotten to be experts on the subject. This week, we polled five PETA employees for their ideas on easy office lunches. Some require a little prep and work; others are a breeze. Read on for easy ways to eat cruelty-free at your nine-to-five.
We asked employees, "What's your favorite go-to lunch for work?"
Diana said … "I'm a French fry fanatic! It's not the healthiest lunch, but on a busy day, nothing gets me through the afternoon like a giant dose of fried taters. I'm a fan of Del Taco's crinkle cut fry, and the 'Macho' size is so big I can fit my entire hand in the cup. Hot, salty, crispy, potato goodness with a side of guacamole and some hot sauce? Let's get rad!"
Vanessa said … "I keep it simple with a sandwich. Lots of veggies loaded onto whole wheat vegan bread, and pepperoncinis to give it a kick. For a side, I bring something easy like carrot sticks or fruit. It's basic but delicious."
Courtney said … "Stir-fry. I make a big batch on the weekends. Nothing fancy, just steamed veggies (whatever I have) with udon noodles and steamed tofu, plus soy sauce."
Adam said … "My go-to lunch is generally a mix of items that I've already made and quickly combined in the morning. It changes all the time, but right now, I'm liking spiced lentils, brown rice, diced carrots, and peppers, with lots of garlic and a splash of hot sauce. Easy, healthful, and delicious!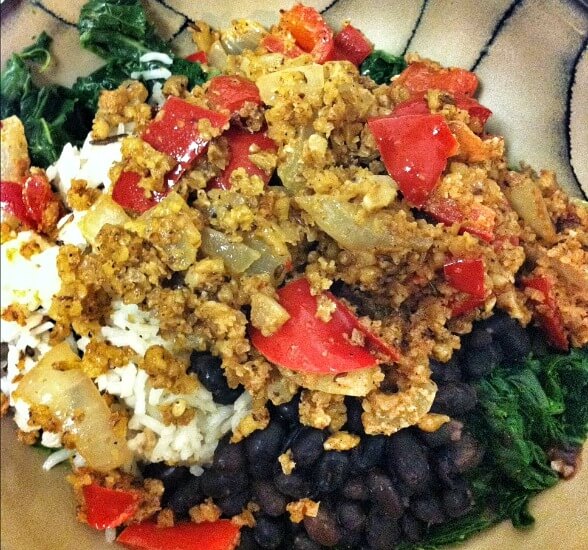 Always the envy of the lunchroom with his healthy, delicious, and beautiful creations is Sean! (He's the creator of the masterpiece pictured above.)
Sean said … "I typically bring leftovers, but my favorite is when I have taco night the evening before and bring myself a taco bowl. I like to make my own walnut taco meat because it's so easy! Here's my recipe:
Raw Walnut Taco Meat
1 1/2 cups raw walnuts, ground in a food processor
1 1/2 tsp. ground cumin
3/4 tsp. ground coriander
2 tsp. Nama Shoyu or Bragg's
Pinch cayenne
Combine all ingredients and mix.
Tip: Sauté onions and bell peppers and prepare some rice and refried beans while preparing the "meat." Then add the "meat" to the sautéed veggies to heat it up a little. Put it all in a Tupperware container and add some fresh spinach to make a taco bowl the next day at work. Boom! Simplicity.
Got any other ideas for delicious, office-ready vegan lunches? Share them in the comments.
Respond