Love at First Spot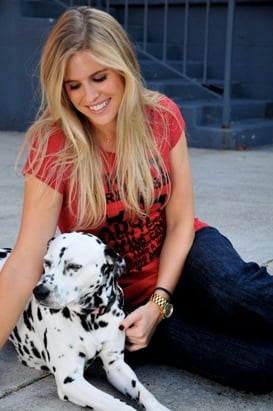 The following post is by former PETA celebrity marketing coordinator Lauren Gordon in honor of "Adopt a Shelter Dog" Month.
Growing up, dogs were always a part of my family, and I knew that when I had a place of my own, it would not be complete without a canine companion. When that time came, I made the decision to adopt because there are so many wonderful dogs in animal shelters, many of whom must be euthanized for lack of a good home.
After weeks of searching for an adoptable furry friend on Petfinder, a sweet female Dalmatian in need of a forever home caught my attention. I visited her that weekend at an adoption event held by a local rescue group and fell in love the moment I spotted her. Penny was shy and underweight, and she inexplicably smelled like maple syrup. Her whole backside had turned brown because of a flea allergy—but somehow, I could tell she was perfect for me.
Penny has been a part of my life for the past five and a half years, and she is almost unrecognizable compared to her former self. Now a bona fide princess, she's a healthy and happy recipient of constant affection. Every time I take Penny for a walk, give her a treat, scratch her behind the ears, or curl up in bed with her, I can see in her big brown eyes how grateful she is for a second chance at life. Penny has even helped spread the message of adoption herself through two PETA ads, which you can check out here and here!
There are too many lonely dogs in animal shelters desperately in need of a loving home, no less deserving of love than one from a pet store or breeder. Big or small, mutt or purebred, every kind of dog is available for adoption across the country, and I am just as lucky to have found Penny as she is to have found me. Penny is always by my side, giving me licks and love, and I feel blessed that I have been able to give her a new life. I love my dog so much, and I hope that others will find the same joy by rescuing a shelter dog.
Respond