June Is 'Adopt a Shelter Cat' Month
|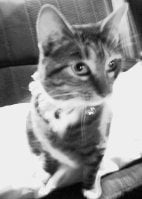 It's "Adopt a Shelter Cat" Month, and I'm here to tell you why you should do just that!
A little more than four months ago, my husband, Kevin, and I adopted Gracey, a gentle 5-year-old tabby, from a local animal shelter here in Virginia. I had never been what you would call a "cat person," but after lots of research, Kevin and I decided that a cat would be the perfect fit for us; but even more importantly, we determined that we could provide a loving and stable environment for an animal in need.
Because of the current companion animal overpopulation crisis, approximately 6 to 8 million unwanted cats and dogs will be taken to animal shelters in the U.S. this year, and half of them will be euthanized because of a lack of good homes.
Not much is known about Gracey's past, but before she came to live with us, she was waiting for her "forever home." Luckily, we came along just in time. Had we not adopted Gracey, she could have become just another one of the 4 million animals who are euthanized each year.
Now, Gracey enjoys chasing the beam from our laser pointer across the hardwood floors in our apartment, lying on the windowsill on sunny days, and eating Tofurky slices while I pack my lunch each morning. Gracey has brought such joy to my life, and I couldn't imagine it without her now.
If you have enough room in your home and in your heart, please consider adopting a cat from an animal shelter.
Respond
In This Section