What Does It Mean to Be a Good Animal Guardian?
|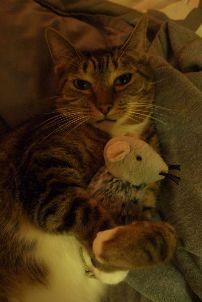 I know I'm not alone when I say that my cats are my children. Many of us have little "fur babies" we share our homes—and our hearts—with. My kids are Gracey and Bo, and they're the rescued loves of my life!
Until recently, I would have always considered myself to be an excellent cat "parent." But Gracey (pictured to the left with her favorite toy mouse) recently had some daunting test results at the vet, and that's when I realized that I can do better. Just like any relationship that becomes neglected over the years, I've noticed that we also often overlook relationships with our animal companions for the same reasons: because we're "too busy," "too tired," or otherwise distracted.
Those test results made it abundantly clear that I didn't have forever and that my time with Gracey was limited—or could even be tragically cut short.
It was then that I began spending a little more time scratching her behind the ears, wiggling her toy mouse, and making sure her litter box is extra-tidy. These may seem like small things to you, but they mean the world to her. Luckily, a second round of tests concluded that Gracey's condition was not as grave as the vet and I had feared. But that doesn't mean that I'll fall into my old habits.
Why do we often wait until our loved ones are sick to show them how we really feel? It doesn't have to be this way. If you're lucky enough to have a cat or a dog in your life, then give them big hugs, special treats, and plenty of attention. You never know when it could be your last chance. Luckily, we all have the opportunity to be better guardians to our animal companions. It's an ever-evolving process, and we should cherish every minute because the seconds go by too fast.
Do you have a cat or dog? What will you do to be a better guardian? Share your story in the comments section below or on PETA's "Confessions" Web feature.
Respond
In This Section