Saint Francis of Assisi Day: Bless All Animals!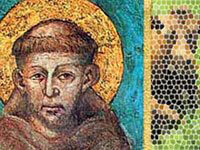 On October 4, people all over the world will be celebrating the feast day of the Patron Saint of Animals, Saint Francis of Assisi. It's customary that in remembrance of St. Francis of Assisi's love for all creatures, animals are led to churches for a special ceremony called the "Blessing of the Animals." Every year, millions of animals are blessed by priests in a ceremony that touches the hearts of most of those in attendance.
It's a nice enough ceremony, assuming that the animals in attendance are not terrified by their unfamiliar surroundings. One PETA employee who attends the service at his parish says that every year, he sees cats at the blessing, and almost all of them are terrified; clearly, almost all cats should be left at home, as should any other animals who don't like crowds. Quite simply, this is for the animals, not for us, so we shouldn't sacrifice their welfare for the ceremony.
The ceremony also raises a larger question. In our society of animal lovers, how are the vast majority of animals treated?
Missing Out on the Blessing
More animals are killed in the food industry than in laboratories, fur farms, puppy mills, circuses, trapping, and hunting combined. They're made of flesh, blood, and bone and can feel love, happiness, loneliness, and fear just like human beings, yet because they were born chickens or pigs or fish or other animals whose flesh people like to eat, these animals are never allowed to do anything that is natural to them—they are never able to feel the grass beneath their feet, the sun on their faces, or fresh air—things that they were designed and created to enjoy by God.
Instead, they endure mutilation—chicks have their beaks burned off, cows and pigs are castrated without pain relief, cows are dehorned and branded, and the list goes on—all without any painkillers. Some animals, such as veal calves, are kept in lonely isolation, while others, such as chickens, are crowded so closely together that they can barely move. Factory farmers restrict animals' movement, not only to save space, but also so that all their energy goes toward producing flesh, eggs, or milk for human consumption. They spend their lives confined to concrete stalls and metal cages, terrified and suffering in such unnatural conditions.
Their fear and pain end only after they have been driven, without food or water and through all weather extremes, to the mechanized murder of today's slaughterhouse, where millions each year have their skin ripped off them and their limbs hacked off, all while still conscious.
Bless All Animals!
St. Francis loved all God's creatures and followed God's example of kindness, mercy, compassion, and love for all creation. But there is nothing loving or compassionate about factory farms and slaughterhouses, where billions of animals live miserable lives and die violent, bloody deaths. St. Francis would be appalled by the degree of suffering that we inflict on animals to indulge our acquired taste for their flesh.
What Can You Do?
You have a choice. When you sit down to eat, you can add to the level of violence, misery, and death in the world, or you can respect God's original plan with a vegetarian diet. A vegetarian diet is good for your health and spares animals unimaginable suffering and violence. Remember: God's mercy is over all God's creatures.
Order a free vegetarian starter kit to get started on a more compassionate path today.
Franciscan Animal Blessings

For All Animals

Blessed are you, Lord God,
maker of all living creatures.
On the fifth and sixth days of creation,
you called forth fish in the sea,
birds in the air, and animals on the land.
You inspired St. Francis to call all animals
his brothers and sisters.
We ask you to bless this animal.
By the power of your love,
enable [him or her] to live according to your plan.
May we always praise you
for all your beauty in creation.
Blessed are you, Lord our God, in all your creatures! Amen.

For a Sick Animal

Heavenly Father,
you created all things for your glory
and made us stewards of this creature.
If it is your will, restore [him or her] to health and strength.
Blessed are you, Lord God,
and holy is your name forever and ever. Amen.
Related Posts
Respond