GW's Rapsheet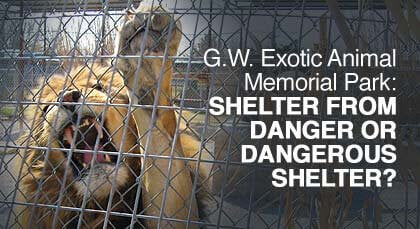 PETA is not the only one to find serious problems at GW. The USDA has repeatedly cited GW for violating the minimum standards of care set forth in the Animal Welfare Act (AWA), and in April 2005 the agency filed a 20-page complaint against GW with numerous charges, including the following:
Failure to provide adequate veterinary care
Failure to handle animals so that there was minimal risk of harm to the animal and to the public
An incident in which a tiger escaped from his enclosure and attacked and seriously wounded a camel
Transportation of 15 tigers and lions in a manner that allowed urine, feces, or both to contaminate the animals caged below
Lack of potable water for 18 lions, 23 tigers, 15 bears, 20 cougars, three leopards, and a pig
Lack of employees present to provide care to 80 large, dangerous cats
Lack of knowledge by employees about how often the animals were fed
Filthy, wet, unsafe, and dilapidated enclosures
Failure to handle animals in a manner that does not cause trauma, behavioral stress, physical harm, or unnecessary discomfort
Failure to provide animals with minimum space
To avoid going to court, GW paid a $25,000 fine in January 2006 and was placed on an 18-month probation period with the USDA. Failure to comply with the AWA during the probation period would result in license revocation.
Respond