'Win It' Wednesday: Turquoise Jade Belt
Written by
January 25, 2012
|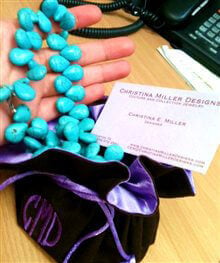 It might be the middle of winter, but you can have a warm sea breeze. This Sea Breeze Turquoise Jade Belt by Christina Miller Designs can be worn many ways, including as a single- or double-strand necklace. The closure is a gold-fill clasp sturdy enough for your jeans but delicate enough for your neck.
To be entered in a random drawing to win the belt, just post a comment telling us about your cruelty-free fashion sense. You can find more cruelty-free products, featured vegan companies, coupons, deals, and more at PETA's new "Shop for Animals" Facebook page!
Good luck!

A winner will be chosen at random from the animal-friendly comments that are submitted. The contest will end on February 1, 2012, and we'll contact the winner by February 15, 2012. Make sure that you read our privacy policy and terms and conditions, as you're agreeing to both by commenting. No purchase necessary. Void where prohibited by law.
Related Posts
Respond
Comments
If your comment doesn't appear right away, please be patient as it may take some time to publish or may require moderation.
By submitting this form, you are agreeing to our collection, storage, use, and disclosure of your personal info in accordance with our privacy policy as well as to receiving e-mails from us.