'Win It' Wednesday: Shibue Couture Stylist Kit
Written by
March 23, 2011
|
Ever wonder how the stars look so perfect on the red carpet? OK, good genes and personal trainers play a part, but so do the right foundation garments. One of the companies that stars' stylists love is Shibue Couture, which has donated its go-anywhere-and-stay-in-place miracle underwear for PETA to use in our nearly naked campaigns. (Taraji P. Henson wore them in her PETA anti-fur ad.)
Now, Shibue wants to give 10 PETA supporters their own stylist-in-a-box with the Shibue Stylist Kit. Whether you're prepping for the prom, a demonstration, or another day in a taffeta bridesmaid dress, Shibue will have you covered.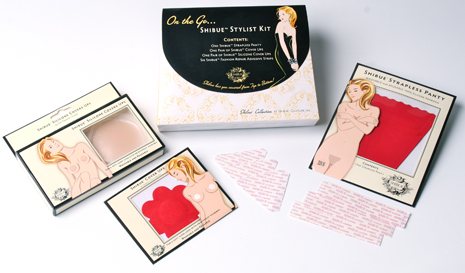 To enter, just tell us what animal-unfriendly activity you would rather go naked than do, and the 10 people with the most moving, animal-friendly answers will win a wardrobe-malfunction prevention kit.
The contest ends April 6, 2011, and the winner will be chosen on April 8, 2011. Be sure to read our privacy policy and terms and conditions, as you're agreeing to both by commenting. No purchase necessary. Void where prohibited by law.
Good luck!
Written by Michelle Sherrow
Related Posts
Respond
Comments
If your comment doesn't appear right away, please be patient as it may take some time to publish or may require moderation.
By submitting this form, you are agreeing to our collection, storage, use, and disclosure of your personal info in accordance with our privacy policy as well as to receiving e-mails from us.