Vote for America's Hottest Vegan Chef
Written by February 17, 2011
|
Not to be outdone by PETA's annual Sexiest Vegetarian Alive contest, Eater.com has launched its own Hottest Chef in America challenge, and one of the finalists could potentially medal in both contests—vegan chef Wes Hannah.
Hannah, the chef and co-owner of acclaimed vegan restaurant Blossoming Lotus in Portland, Oregon, reportedly made it into the final round by beating another Portland-area chef/hunk by a single vote. You can help give Hannah an edge in the final showdown by casting your vote at Eater.com. But you'll have to act quickly—the polls close tomorrow morning.
C'mon, we all know that vegans make better lovers. And what could possibly be hotter than a guy who cooks—and who cares about animals?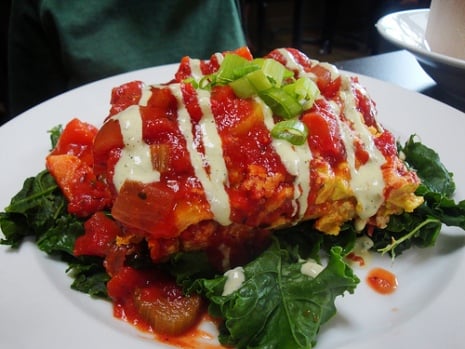 Lasagna from Wes Hannah's Blossoming Lotus restaurant.
If he looks as good as his food does, then he's already a winner.
eyeliam/cc by 2.0
Written by Alisa Mullins
Related Posts
Respond
Comments
If your comment doesn't appear right away, please be patient as it may take some time to publish or may require moderation.
By submitting this form, you are agreeing to our collection, storage, use, and disclosure of your personal info in accordance with our privacy policy as well as to receiving e-mails from us.