UPDATE! California Foie Gras Ban Upheld
Written by August 30, 2013
|
California's groundbreaking ban on the production and sale of foie gras has been upheld by a federal appeals court, which unanimously rejected a bid by a southern California restaurant, Hot's Kitchen, and out-of-state foie gras producers, including Hudson Valley Foie Gras and Rougié, to strike the law down.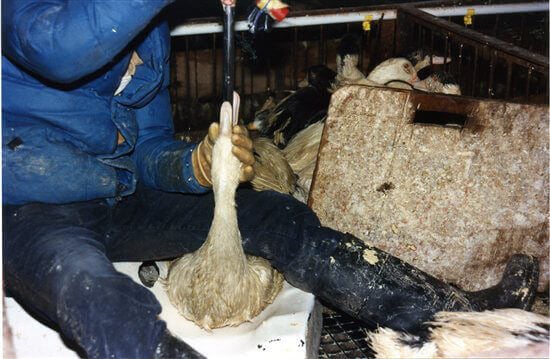 Earlier this year, a PETA investigator documented workers at Hudson Valley dragging ducks by their necks along the wire floor and pinning the ducks between their legs before ramming metal tubes down their throats and pumping food into their stomachs. PETA's investigator also documented that during slaughter, at least one bird was still moving after his throat had been cut.
What You Can Do
If you ever see foie gras being served or sold, complain to the manager of the restaurant or store and assure him or her that you will never patronize the establishment again as long as it sells this delicacy of despair.
Related Posts
Respond
Comments
If your comment doesn't appear right away, please be patient as it may take some time to publish or may require moderation.
By submitting this form, you are agreeing to our collection, storage, use, and disclosure of your personal info in accordance with our privacy policy as well as to receiving e-mails from us.