Rusty the Rooster Gets His Strut Back
Written by July 27, 2011
|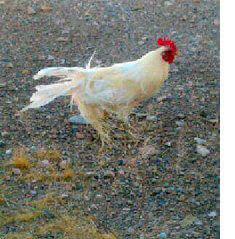 Beautiful Rusty had a home and a family—until the day that they moved and left him alone in the backyard, with no food or water in the middle of a southwestern U.S. summer. A kind neighbor spotted the abandoned rooster through the fence and called PETA for help. We alerted animal control and asked officers to rescue Rusty, but they told us that oh, no, first they would have to call his runaway owners and "give them a chance to claim him." The owners told animal control that they would return for Rusty, but he languished for days, all alone, surviving only because a caring neighbor managed to get into the yard to give him food and water—offerings that the starved bird gladly accepted.
Finally, after it was clear that Rusty's absentee owners were gone for good, animal control confiscated him and found him a spot at an animal shelter, where he now awaits a new home with a family that won't treat him like a rusty old bicycle—or eat him. In the meantime, the other animals at the shelter get a pleasant wake-up call every morning, courtesy of Rusty's joyful crooning.
Written by Michelle Sherrow
Related Posts
Respond
Comments
If your comment doesn't appear right away, please be patient as it may take some time to publish or may require moderation.
By submitting this form, you are agreeing to our collection, storage, use, and disclosure of your personal info in accordance with our privacy policy as well as to receiving e-mails from us.