PETA Stops Traffic In LA
Written by July 18, 2011
|
The world didn't come to an end when road crews shut down 10 miles of one of Los Angeles' busiest freeways this past weekend, but the absence of the usual bumper-to-bumper traffic on the 405 was certainly an other-worldly scene. Then there was a heavenly vision: PETA members reminding the hardy motorists who dared to brave Carmageddon that going vegan clears up arteries faster than $5-a-gallon gas.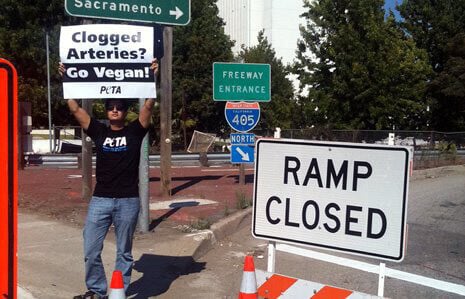 If we want to get serious about unclogging arteries, maybe road crews should put orange cones in front of slaughterhouses and factory farms.

Written by Michelle Sherrow
Related Posts
Respond
Comments
If your comment doesn't appear right away, please be patient as it may take some time to publish or may require moderation.
By submitting this form, you are agreeing to our collection, storage, use, and disclosure of your personal info in accordance with our privacy policy as well as to receiving e-mails from us.