PETA Prepares for the Rapture
|
This Saturday is Judgment Day, according to Preacher Harold Camping of Family Radio Worldwide. And while most of us aren't going to be closing our bank accounts and hurrying to cross things off our bucket lists, PETA is helping Camping get ready.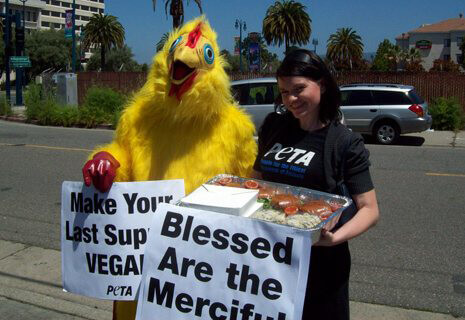 Our giant chicken delivered a delicious tray of vegan cuisine to remind Camping and his faithful flock of the suffering that meat-eaters cause to God's creatures.

Written by Michelle Sherrow
Related Posts
Respond
Comments
If your comment doesn't appear right away, please be patient as it may take some time to publish or may require moderation.
By submitting this form, you are agreeing to our collection, storage, use, and disclosure of your personal info in accordance with our privacy policy as well as to receiving e-mails from us.