PETA Joins the World in Mourning Nelson Mandela
Written by
December 5, 2013
|
PETA joins the world in mourning the passing of Nelson Mandela, a man who risked his own life to advocate for the freedom of others. Not only did Mandela's work help to end apartheid in South Africa, he also set a powerful example for all peaceful activists, showing that they must rattle the "cages" of what society feels is acceptable in order to help those who are suffering.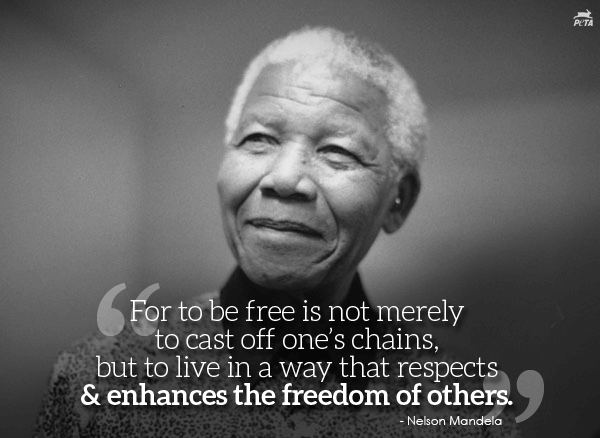 Once photographed laughing in delight as his dog jumped up on him, Mandela's compassion extended to animals—he was a patron of the National Council of SPCAs, which works to improve the standards for animal welfare in communities in South Africa.
PETA honored Mandela, Martin Luther King Jr., Gandhi, and others by releasing the following video that shows each world leader "speaking" about peace and justice for all living beings:
Related Posts
Respond
Comments
If your comment doesn't appear right away, please be patient as it may take some time to publish or may require moderation.
By submitting this form, you are agreeing to our collection, storage, use, and disclosure of your personal info in accordance with our privacy policy as well as to receiving e-mails from us.