Morrissey Snubs UK Prime Minister
Written by April 25, 2011
|
PETA pal Morrissey isn't shy about telling British Prime Minister David Cameron what he thinks about Cameron's penchant for deer hunting. (Former Smiths bandmate Johnny Marr even publicly "forbade" Cameron from liking their music.) In a recent pre-concert interview, Morrissey told the BBC that he probably wouldn't even open his dressing room door for Cameron, saying, "It's a moral issue. Killing a stag is like killing a child. What's the difference?"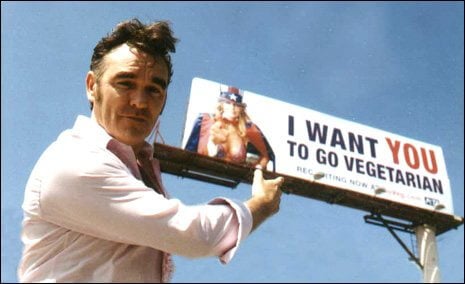 Perhaps the prime minister should have done some homework before expressing his fondness for The Smiths, whose second album was titled Meat Is Murder. Morrissey is a vegetarian who is outspoken about the Chinese fur trade, the Canadian seal slaughter, and The Queen's Guards' bearskin hats. In 2005 he grabbed PETA's Linda McCartney Memorial Award for reaching out to millions of people with a message of compassion. Maybe he can convince Cameron to be the next to follow in his kind footsteps.

Written by Michelle Sherrow
Related Posts
Respond
Comments
If your comment doesn't appear right away, please be patient as it may take some time to publish or may require moderation.
By submitting this form, you are agreeing to our collection, storage, use, and disclosure of your personal info in accordance with our privacy policy as well as to receiving e-mails from us.