Driver Gets in Tofu Skirmish
Written by September 14, 2011
|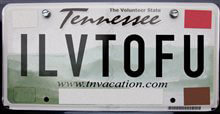 Photo illustration
Apparently, in Tennessee, one's love of tofu should be kept a well-guarded secret. When a PETA staffer there applied for a vanity plate saying, "ILVTOFU," she was denied by the Department of Revenue, which called the plate "vulgar."
OK, we see how this could be interpreted, but we're of the opinion that the meat industry's abuse of animals and its damage to the environment and your arteries is what's disgusting. If loving tofu is wrong, we don't want to be right. Undeterred, the staffer plans to deck out her car in vegan bumper stickers like these:
Just point your clicker to a sticker to order one for yourself, and visit PETA's recipe page to have your own little tofu love-fest.
Written by Michelle Sherrow
Related Posts
Respond
Comments
If your comment doesn't appear right away, please be patient as it may take some time to publish or may require moderation.
By submitting this form, you are agreeing to our collection, storage, use, and disclosure of your personal info in accordance with our privacy policy as well as to receiving e-mails from us.