Beyond Meat Is PETA's Company of the Year!
Written by
December 23, 2013
|
Congratulations to Beyond Meat, PETA's 2013 Company of the Year! The company produces the most realistic faux-chicken product on the market today. It's "virtually indistinguishable," as the company says, from chicken flesh, making it appealing to both meat-eaters and vegans alike. And not only is Beyond Meat delicious, it's also widely available. Even Tropical Smoothie Café now offers wraps, salads, and sandwiches made with Beyond Meat products. Whole Foods, Sprouts Farmers Market, and other natural-food stores also stock the great-tasting faux-chicken strips, which come in three flavors: lightly seasoned, grilled, and Southwest style.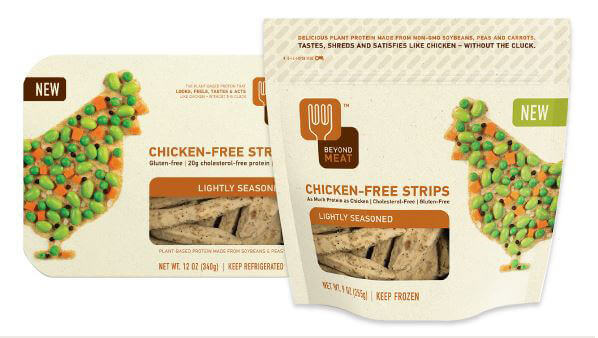 Beyond Meat is backed by high-profile investors, including Biz Stone of Twitter and Microsoft's Bill Gates, who has blogged about how vegan foods take fewer resources and generate fewer greenhouse-gas emissions when they're created. It's caused quite a stir in the media this year, garnering critical acclaim from CNN, the Associated Press, Wired, the Los Angeles Times, and other media outlets.
Even the meat industry is buzzing about Beyond Meat. They're right to be worried—more and more people are opting for meat-free meals as they realize that doing so will help save animals and the environment, as well as reducing world hunger and improving their health.
If you want to try Beyond Meat, head on over to Tropical Smoothie Café, which has 300 locations in 36 states, or pick up a package at a local health-food store. Trust us: Beyond Meat will have people moving beyond meat in no time.
If you haven't tried it yet, now's your chance! In honor of the award, the compassionate company is offering a coupon for free Beyond Meat strips. This offer is available until December 25, so get yours today!
Respond