Public Outcry Gets Fired Woman's Job Back
Written by December 7, 2011
|
After hearing the story of Lynn Jones, a baggage handler who, appallingly, was fired for protecting a suffering dog, we decided to do what her employer should have done—give her an award.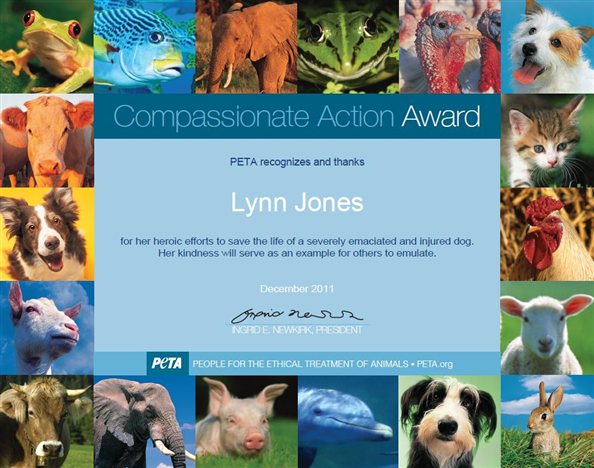 Jones was working at the Reno-Tahoe International Airport in Nevada when she spotted an emaciated dog inside a carrier in the cargo area who was covered with sores. The animal's paws were raw and bloody, and he was too weak to stand. Jones doubted that he would survive the flight.
She refused to give in to her supervisor's demands that she load the suffering animal onto a plane until, finally, airport police called animal control, which arranged for the dog to receive veterinary care. The animal was eventually transported to his original destination, much to the dismay of Jones, who said she would have been happy to adopt the dog.
"I wouldn't have traded that job for anything," Jones said "I wouldn't have risked it for anything. But I just couldn't turn my back on that dog. … My supervisor said it wasn't my concern, but animal abuse is everyone's concern who sees it."
Apparently shamed by the international attention Jones' story has garnered, her employer has now reportedly reconsidered and offered Jones her job back. We'd say a new policy regarding the transport of obviously sick and injured animals would be in order as well. Call it "Lynn's Law."
Related Posts
Respond
Comments
If your comment doesn't appear right away, please be patient as it may take some time to publish or may require moderation.
By submitting this form, you are agreeing to our collection, storage, use, and disclosure of your personal info in accordance with our privacy policy as well as to receiving e-mails from us.