Abused Horses Find Their Field of Dreams (Photos)
|
Henry was once a racehorse, but when he stopped winning, he became one of the thousands of thoroughbreds who are discarded every year. Once a sleek, powerful competitor, he was a bag of bones, unsteady on his feet, and barely able to hold his head up when a PETA fieldworker spotted him and another horse, Caroline, while working in rural North Carolina on another case.
Henry's hair was falling out in clumps, partly because of stress, malnutrition, and a skin condition called "rain rot" that is common in neglected horses. He also had bloody wounds on his ears that appeared to have been caused by biting flies. His ribs and hip bones stood out in stark relief against his skin, and he had so little flesh on his head that hollows had formed above his eyes.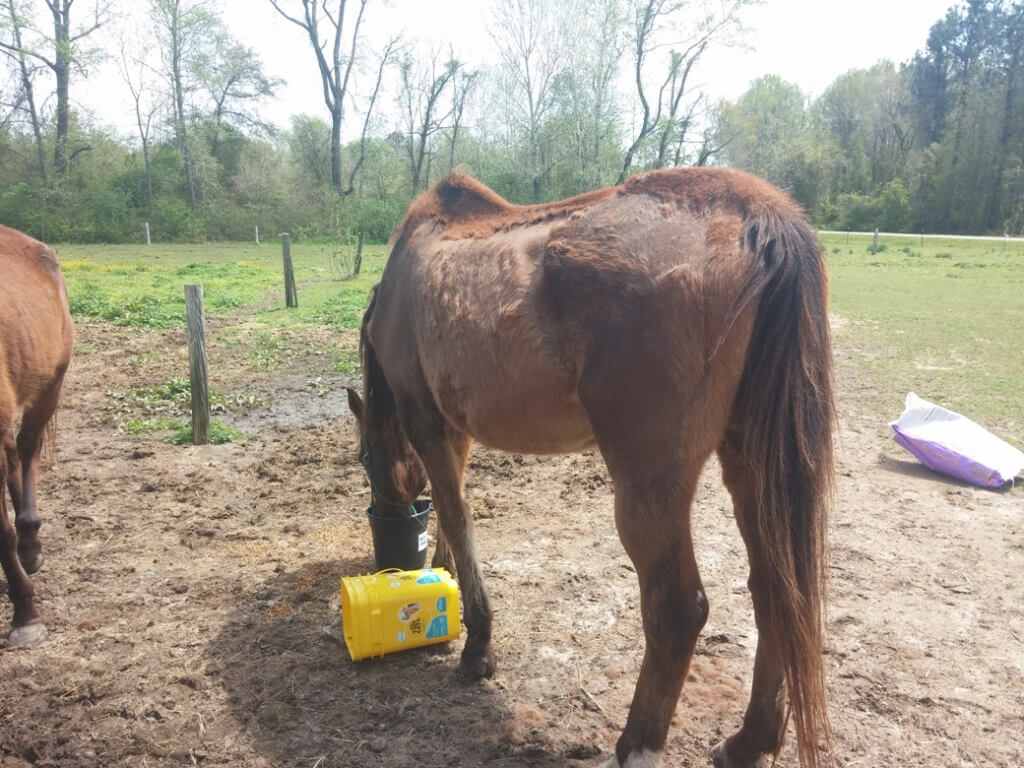 Caroline was also severely underweight, and both horses had painfully overgrown teeth and hooves (regular dental and foot care is essential for horses). The horses' only source of water was a battered, discarded bathtub that contained just a few inches of filthy water and algae.
The fieldworker learned from the next-door neighbor that the horses' owner had moved away months ago and left the neighbor's brother in charge of their care. There was no feed on the property, just an old, decomposing bale of hay, which the fieldworker immediately gave the horses, who were so hungry that they were trying to nibble on her clothes. She came back later with some grain, which "they ate like it was their job," she says. We consulted an equine veterinarian, who recommended that the horses be removed because of "chronic neglect." The horses' absentee owner didn't want them (and had reportedly even threatened to shoot them at one point). The neighbors agreed to surrender Henry but wanted to keep the younger horse. However, after we loaded Henry into a trailer to take him to his foster home, Caroline—as the vet had predicted she would—became frantic when she lost sight of Henry. Seeing how distraught she was, the neighbors agreed to let these old friends stay together. Once they got to their foster home, the horses were assessed by a veterinarian and received long overdue maintenance of their overgrown teeth and hooves. After two months of proper care, the horses were nearly unrecognizable: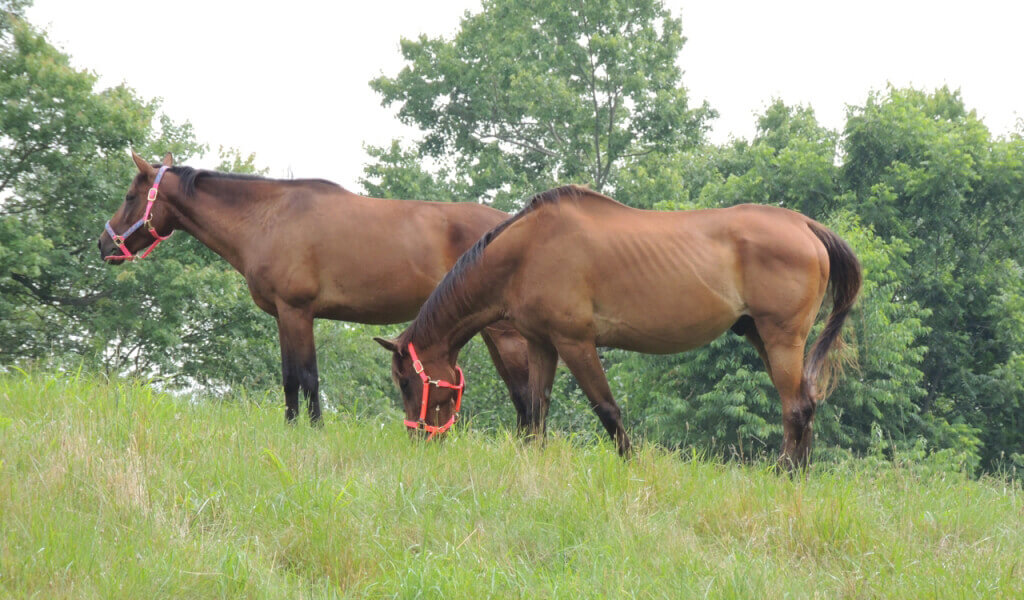 Last month, Caroline and Henry traveled to their permanent home in Middleburg, Virginia, where they will spend the rest of their days roaming lush pastures together. Itchy, another PETA rescue, also lives at the farm and can vouch for the fact that Caroline and Henry have literally and figuratively landed in clover.
Respond