Vegan
Vegan Fast Food Without the McCruelty: This Big Mac Recipe Is Delicious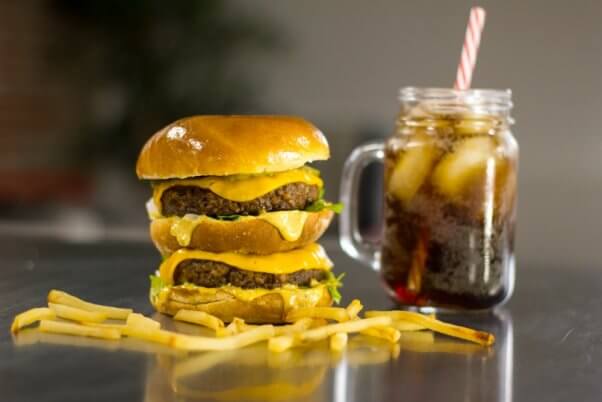 Print
Ingredients
1/2 cup

vegan mayonnaise

1 tsp.

yellow mustard

1 Tbsp.

relish

1 tsp.

white vinegar

1/8 tsp.

salt

1/2 tsp.

paprika

1/2 tsp.

garlic powder

1/2 tsp.

onion powder

2 Tbsp.

vegan butter or refined coconut oil

3

vegan burger-bun halves (toasted, if desired)

1/2 cup

onion, finely diced

1/2 cup

butter lettuce, shredded

6–10

dill pickles, thinly sliced
Instructions
For the secret sauce, mix together the vegan mayonnaise, mustard, relish, vinegar, salt, paprika, and garlic and onion powder in a small bowl until well combined. Set aside.
Heat the vegan butter or coconut oil in a skillet over medium heat. Add the vegan burger patties, cover, and cook for 3 minutes. Flip, top each with a vegan cheese slice, cover, and cook for another 3 minutes or until the "cheese" melts.
To assemble the burger, layer the bottom bun with half of the secret sauce, onions, and lettuce. Add one cooked vegan burger patty and top with half of the pickles. For the middle bun, use another bottom bun or a top bun with the excess bread cut off, if needed. Layer on the remaining sauce, onions, and lettuce, then add the other vegan burger patty, the rest of the pickles, and the top bun.
Serve with baked French fries and enjoy!
Makes 1 serving
[peta-video youtube="EFECl_L3aGQ"]