San Francisco 49ers safety Antoine Bethea knows what it takes to play hard in the NFL, and he knows what it takes to be a responsible, loving guardian to his animals. He treats his dogs like family, refusing to chain them because it would relegate them to a life of misery all alone outdoors.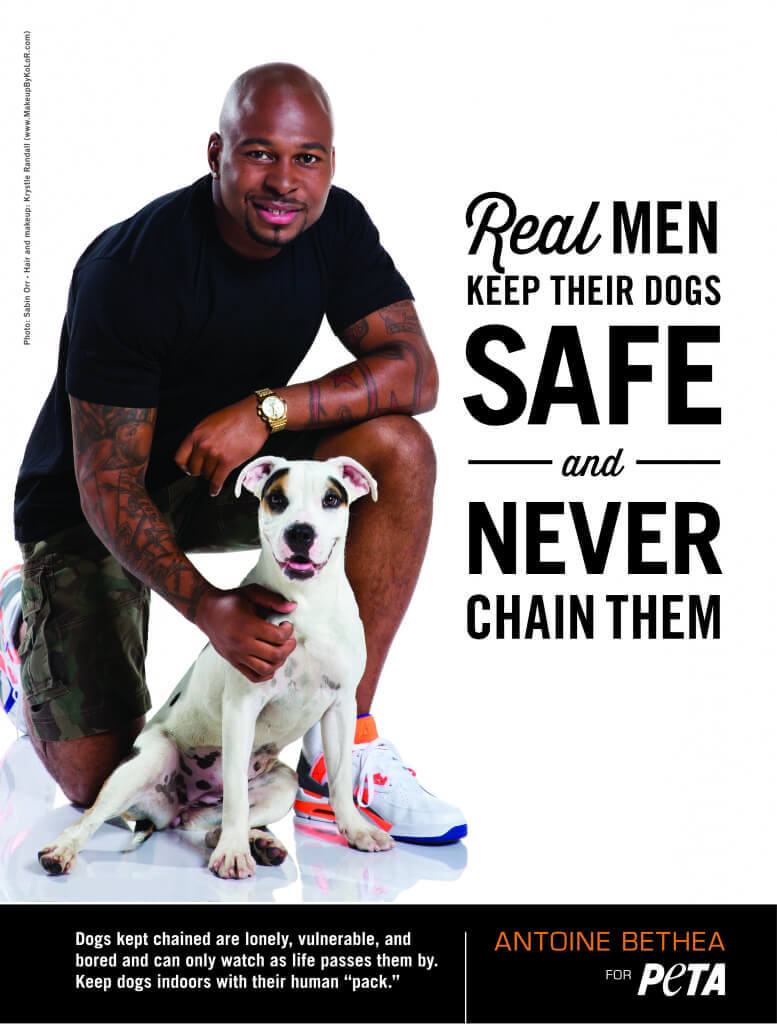 Just like humans, dogs are social animals in need of companionship. Chained "backyard dogs" frequently fall victim to neglect when they are forgotten. Because they're "out of sight, out of mind," they often go without food or water. In the depth of winter, they shiver in the bitter cold and can freeze to death, and they often suffer from heat exhaustion at the height of summer.
When Antoine learned that chained "backyard dogs" are often ignored and neglected, he stepped up his game and promised never to be silent about it!
He's said no to fur in the past, and he's teaming up with PETA again—this time against the chaining of dogs.
Watch the exclusive behind-the-scenes interview and see Antoine stand up for the safety of animals!
You Can Help—Use Your Voice for Animals!
Never be silent—always help animals who face abuse. Speaking up for them can save their lives. Use your voice to stop animal abuse by sharing this message with your friends on Twitter and Facebook! Learn more about the gruesome dogfighting industry, and always report it to the authorities if you suspect that someone is forcing dogs to fight.
Looking for more ways to help?
• Join PETA's Action Team to receive periodic alerts and to meet other local activists.