Could your generosity inadvertently harm animals? It could if you donate to a charity that funds experiments on them.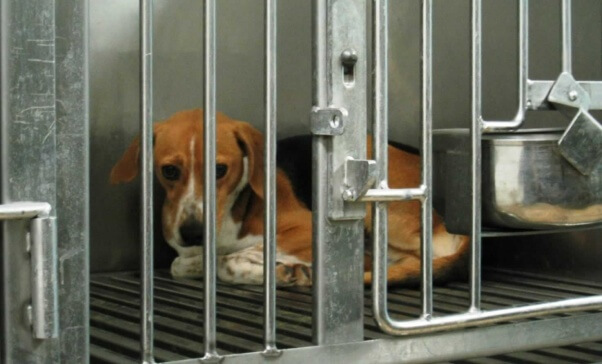 Numerous health charities—including St. Jude Children's Research Hospital, Susan G. Komen, the March of Dimes, the Muscular Dystrophy Association, and others—have a dirty secret that you won't see in their infomercials or telethons: They funnel donations toward appallingly cruel and pointless animal experiments.
For instance, experimenters funded by the American Heart Association severed the nerves in dogs' hearts and forced chickens to breathe concentrated cigarette smoke—even though scientists have known for years that smoking is linked to atherosclerosis. Experimenters funded by the March of Dimes sewed the eyes of newborn kittens shut for a year, then killed them, to show that depriving cats of normal vision alters brain development—already a long-accepted scientific fact.
The French animal-protection group Animal Testing revealed heartbreaking footage from a laboratory funded by the French charity AFM-Téléthon, in which dogs intentionally bred to suffer from muscular dystrophy had difficulty swallowing, breathing, and walking as their muscles wasted away.
The good news is that many reputable charities—including Easterseals, the Dr. Susan Love Research Foundation, and the Children's Oncology Group—help people with diseases or disabilities, without harming animals, by funding only modern, high-tech, human-relevant, non-animal research.
To ensure that your donations help both people and animals, we've compiled a handy list of health charities to support (and others to avoid). This list is not exhaustive: If you want to support a charity that you don't see listed here, please contact it directly and ask if it funds animal tests. Be sure to let charities know that you won't support them as long as they hurt living beings.
HIV/AIDS
Do Test
Aaron Diamond AIDS Research Center
amfAR, The Foundation for AIDS Research
Canadian Foundation for AIDS Research (CANFAR)
Elizabeth Glaser Pediatric AIDS Foundation
International AIDS Vaccine Initiative
Don't Test
AIDS United
CANCER
Do Test
Alberta Cancer Foundation
Alex's Lemonade Stand Foundation
American Brain Tumor Association
American Cancer Society
American Institute for Cancer Research
Bear Necessities Pediatric Cancer Foundation
Breast Cancer Alliance
Breast Cancer Research Foundation
Cancer Research Institute
Children's Cancer Research Fund
City of Hope
Colon Cancer Alliance
The University of Arizona Cancer Center
University of Colorado Cancer Center
Don't Test
CARDIOVASCULAR DISEASES
Do Test
American Heart Association
American Stroke Association
British Heart Foundation
Molecular Cardiology Research Institute (Tufts Medical Center)
Texas Heart Institute
Don't Test
MENTAL HEALTH
Do Test
Brain & Behavior Research Foundation
Don't Test
NEUROGENERATIVE DISEASES
Do Test
Alzheimer's Association
American Parkinson Disease Association
BrightFocus Foundation
Cure Alzheimer's Fund
The Michael J. Fox Foundation for Parkinson's Research
National Parkinson Foundation
Don't Test
OBESITY/DIABETES
Do Test
American Diabetes Association
Canadian Diabetes Association
JDRF
Joslin Diabetes Center
William Sansum Diabetes Center
Don't Test
At this time, we're not aware of any reputable charities in this category that don't test on animals.