Say 'Yes' to Pesto
The following article was written by Keegan Baur.
Spring is upon us, and I, for one, am so ready for warm weather. This past weekend, I wanted to cook a fresh and light dinner and decided to try the Avocado Pesto Pasta dish à la Chef Chloe. It hit the spot for me, and I'm definitely excited to use more recipes by this budding new vegan chef. Now see for yourself how easy it is to make this scrumptious dish!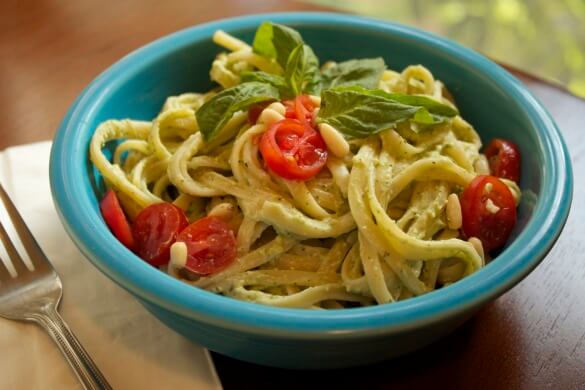 Avocado Pesto Pasta
1 pound dried linguini
1 bunch basil leaves (about 2.5 ounces)
1/2 cup pine nuts
2 ripe avocados, pitted and peeled
2 Tbsp. fresh lemon juice (about 1/2 of a lemon)
3 garlic cloves
1/2 cup olive oil
Salt, to taste
Freshly ground black pepper, to taste
1/4 cup chopped sun-dried tomatoes (optional)*
*I'm not a huge fan of sun-dried tomatoes, so instead, I chose to use one sliced cherry tomato as a garnish.
In a large pot, bring water to a boil. Add the pasta and cook to package directions. While the pasta cooks, create the pesto by blending the basil, pine nuts, avocados, lemon juice, garlic, and olive oil in a food processor. Season with the salt and pepper.
Drain the pasta. In a large serving bowl, toss the pesto with hot, freshly cooked pasta and garnish each serving with a basil leaf. For an extra touch of color and flavor, top the pasta with sun-dried tomatoes.
For a twist on this dish, check out our Sun-Dried-Tomato-and-Pesto Linguine recipe, which incorporates faux-chicken strips and vegan Parmesan cheese.
Respond