Italian Potato Salad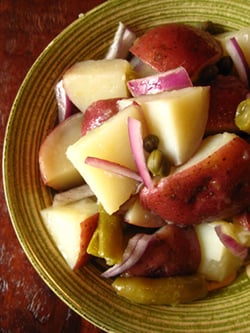 This might be the only time in my life when I'll say "I wish I lived in New Jersey." After interviewing chef Joseph Rosolen, I learned a little nugget of information that caught my attention: "A few years later, he recognized that busy people needed a fast, convenient way to have delicious, healthy food delivered to them, and in 2006, Online Vegetarian Deli was born."
Yes, that's right—in New Jersey you'll find a delivery service that specializes in healthy vegan and vegetarian meals, with menus updated weekly. This week's offerings include a seitan cutlet sandwich, broccoli rabe over pasta, black-bean and winter squash stew, and vegan mac and cheese, to name just a few items on the all-vegan list. Why don't they have services like this everywhere?
Since I don't live in Jersey, I decided to try out one of the recipes that Joe shared with us, an Italian potato salad. The key to success with such a simple dish is using the best ingredients available—so if it didn't turn out, I'd only have myself to blame, not Joe. To add just a little more to the salad, I left the skin of the potatoes on and garnished with just a few capers. The result was a simple yet flavorful dish, largely because of the high-quality olive oil I used.
Italian Potato Salad
by Joseph Rosolen
3 lbs. potatoes, peeled and cubed
Fresh green beans, trimmed
1 red onion, sliced thin
Extra virgin olive oil, to taste
Red wine vinegar, to taste
Salt and pepper, to taste
•Boil the potatoes until fork tender. Set aside.
•Cook the green beans in boiling water until tender but still slightly crisp. Drain.
•Gently combine the potatoes, green beans, onions, oil, and vinegar. Season to taste.
Makes 4 to 6 servings
Related Posts
Respond