Put on Your (Vegan) Dancing Shoes!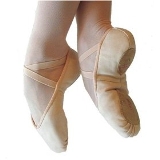 Recently, some friends and I have taken up Zumba. If you haven't heard of Zumba yet, think Jazzercise-meets-Latin dancing. It's a fabulously fun way to stay fit, and it doesn't require any special gear—I usually just wear workout clothes and my nonleather sneaks.
If you or your little ones are learning or performing a "for real" style of dancing (like ballet, ballroom, jazz, tap, etc.), you're going to need some "for real" dancing shoes. Luckily, it's a snap to find animal-friendly shoes for many different dancing styles online. Here are a handful of places with cruelty-free dance shoes to get your feet moving—without stepping on any animals' toes!
• Ethical Wares' "Last Dance" line offers vegan practice shoes, a men's ballroom dancing shoe, and women's ballroom shoes, including a pretty sandal.
• The Cynthia King Dance Studio in Brooklyn sells cruelty-free ballet slippers with polished canvas uppers and synthetic soles. They are a big hit with the dancers at the studio!
• Step One Dance Shoes'"Fantasy" line can be ordered in faux leather with hard rubber soles and offers a variety of ballroom and Latin dancing styles.
• Discount Dance Supply has a great selection of affordable dance shoes and supplies. Call before ordering to inquire about the materials, as some of their canvass and synthetic shoes may have leather soles.
• For modern dance and other styles that are often performed in bare feet, Dance Paws makes a great leather-free product that will "save your sole"!
I'd love to hear about other places that sell vegan dance shoes!
Respond