Make Your Own Animal Companion Cuff Bracelet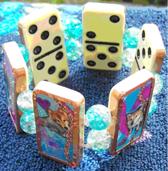 Show your love for your animal companion with this easy-to-make cuff bracelet. (And no, I do not recommend making one for your animal to wear. This is for you.) I started making these altered domino bracelets about a year ago, and they are now one of my favorite things in the world to make.
Supplies 1 package medium-sized domino beads (I get mine online at www.sunshinecrafts.com—just search for "domino")
½" color copies of pictures of your animal companions
1 X-Acto knife ¼" copper foil tape (I also get this from www.sunshinecrafts.com—just search for "copper foil tape")
Spacer beads (I like to use Czech 5″x7″ cube beads or 6mm fire-polished beads)

Stretch Magic bead and jewelry cord (.5 mm), also available at www.sunshinecrafts.com
1 small paint brush

Optional supplies: paper scraps, tissue paper, glitter confetti, etc.
Cut out your animal pictures. Take seven domino beads, and on the side opposite side the dots, make small collages using the Weldbond glue. You can make a background of tissue paper and adorn with glitter confetti or whatever you like. Wrap the foil tape along the edge of the collaged domino. String the collaged beads and spacer beads on the Stretch Magic cord, tie off the cord (I like to put a drop of glue over the knot), and voila—your own wearable tribute to your animal companions!
Related Posts
Respond