How to Keep Your Dogs Safe From Psychopaths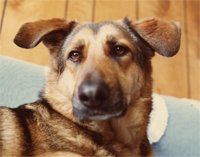 When I read, "
Man Gets 5 Years for Shooting to Death Neighbor's Dog
," in
The Virginian-Pilot
recently, describing the deliberate fatal shooting of a 7-year-old black lab in 2003 and the richly deserved sentence that was finally handed down last week, it brought back terrifying memories from the early 1980s.
I was living in a second-floor apartment in Columbus, Ohio, and a friend was staying with me for a few days. Early one Sunday morning, she woke up and decided to let my 3-year-old shepherd mix, Koro, out into the yard. Koro started barking, and that woke me right up—even back then, I knew it wasn't a good idea to let my dog bark her head off outdoors early in the morning, so I jumped out of bed and headed for the stairs to go bring her back inside. But before I could reach her, a shot rang out, and Koro started screaming—the worst sound I have ever heard. She had been shot by a neighbor, a student with a hangover, as I later found out. She ran up the back steps to my apartment and collapsed, and I could see a gaping hole in her back. It turned out that the bullet had entered just beneath her backbone, passed through her chest, and exited through her right shoulder.
An impoverished grad student, I didn't have a car back then, so I had to call a cab to get us to an emergency vet. Miraculously, Koro survived and was even able to come back home that very night to recuperate. Within a few days, she was back to her old self. The bullet had come close to, but missed, her spinal cord, heart, and lungs, so unlike the unfortunate Fannie Hitchings, whose dog, Rex, was killed, as described in the article mentioned above, I got to have Koro in my life for another 10 years after she was attacked. However, I would not say that we came away unscathed. Actually, Koro never seemed to let the incident affect her too much, but I suffered from recurring nightmares for years. However, I also learned a very valuable lesson from it.
There will always be people who dislike animals, and there will always be people with anger-management issues. And if you have animals who go outside for any reason, even under close supervision and even if you have a secure fenced-in yard, your neighbors can hurt them very easily. It wouldn't have to be as dramatic as gunshot—it could be as simple as throwing a piece of poisoned meat over the fence—your dogs would get to the meat and wolf it down before you even knew it was there. There is only one sure way to protect your dogs from people who have no qualms about harming them: Stay on friendly terms with all your neighbors at all times. Even if you can't stand them, treat them like gold. Greet them, chat with them, show interest in them, and compliment them, no matter what you feel inside. It's well worth the effort.
And most important of all, do not let your dogs bother your neighbors. Don't let them bark outside incessantly, especially when others are sleeping. Don't let them roam the neighborhood. Don't let them lunge at your front gate or act aggressively. In short, don't let them do anything that will cause your neighbors to despise them. A humane dog trainer can help you if your dogs have behavioral problems likely to irritate the neighbors.
Don't imagine for a minute that people will "understand" if your dogs bark too much or that they like your dogs as much as you do. Trust me—they don't. Play it safe: Don't gamble with your dogs' lives and well-being.
Respond