Hug a Warm Puppy!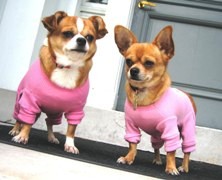 In our area of Virginia, the temperatures have started to dip into the 40s and even the 30s. This means that some dogs will already have started shivering. And when it comes to resisting the cold weather, size does not matter at all. The biggest, strongest, toughest-looking pit bull or Doberman can be seen looking hunched over and miserable outside because their short, thin coats are not doing it for them. This is one reason why it's so tragic that Dobermans are often used as guard dogs. They have to endure loneliness and freezing-cold temperatures. My late Doberman, Shandy, was always a chilly dog in winter, so I bought him a sporty blue cape-like jacket from a greyhound catalog that made him look like Superdog. He loved it and seemed to walk taller in it too.
Many people don't realize that some dogs need winterwear because they assume that a dog's coat is sufficient protection against the cold. But look at it this way: Don't you sometimes feel cold when you're outside with a coat on? And it gets worse if you're not given the opportunity to move around much, such as in the sad case of dogs who are chained or penned outside.
A good rule of thumb is this: If you feel comfortable in a light jacket and your dog has a medium-thick coat, everything should be fine. If you feel the need to put on a heavier coat and mittens, then start thinking about buying outerwear for your dog too. Don't worry about it if you have a husky, collie, chow-chow, or other dog with a thick undercoat, but do worry about it if your dog has a thin, short haircoat or is old or infirm. Worry less if you're going for a brisk walk or run that will warm you both up quickly, and worry more if you're going to be standing around outside for any length of time.
Or you could just observe your dog and see if he or she shivers. Then get your dog some outerwear pronto!
You can knit or crochet your own dog sweaters—there are lots of patterns on the Internet. Teresa, the guardian of Joey and Chandler, whose picture accompanies this post, whips out dog sweaters like nobody's business. And choosing your own colors can be a lot of fun. If you'd rather go with something store-bought, there's a lot to choose from both online and at your local pet supply store: sweaters, coats, thermal underwear, sweatshirts—even boots to fend off snow and ice.
Boots are particularly good for dogs with furry feet who are going to be walking around in the snow. I remember my cocker spaniel Rogan accumulating little icy snowballs all over his fluffy feet when we walked in the snow the first time. Not too pleasant—in fact, he stopped walking altogether and made me carry him.
Respond