Colliding With Cruelty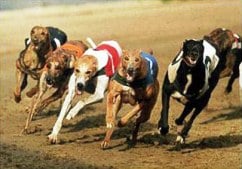 The issue of greyhound racing is suddenly heating up in Massachusetts, because this November there will be a referendum on the ballot (Question 3) called the "Greyhound Protection Act" that would outlaw commercial dog racing by 2010. An earlier attempt to do this was made in 2000, but it failed by less than 2 percent of the vote. This time, the chances of success are much higher because graphic evidence of cruelty to racing dogs has been gathered by the Committee to Protect Dogs, and it is overwhelming.
Now, as cruelty to dogs goes, perhaps greyhound racing doesn't sound like the worst abuse in the world. A bunch of dogs have fun running around a track once in a while―big deal, right? But take a closer look: There are a lot of hidden horrors in the dog-racing business. And it is a multimillion-dollar business, although one that is in decline. The two worst greyhound-racing horrors, in my view, are: (1) what happens while the dogs aren't racing and (2) what happens while the dogs are racing.
While not racing, the dogs at two Massachusetts greyhound racing tracks typically spend about 20 hours per day confined to cages measuring only 32 inches by 42 inches by 34 inches. These cages are five times smaller than the dog kennels at the Massachusetts SPCA. Many of the dogs can't even stand completely upright. This makes me feel stiff and claustrophobic just thinking about it! What a frustrating and uncomfortable life!
What happens to the dogs while on the track is that they frequently collide and end up crashing into walls and injuring themselves. In just one year, starting in May 2007, there were more than 800 injuries, including fractures, dislocations, lacerations, and amputations, on just two greyhound racing tracks in Revere, Massachusetts, Raynham Park and Wonderland Greyhound Park. Footage of more than 5,000 races was reviewed and more than 300 collisions were catalogued by GREY2K USA, a greyhound advocacy group. Seven of these were then compiled into a four-minute video to share with the public. And it's sickening to watch, especially when you realize that all this carnage is so unnecessary.
This issue caught my attention when I came across an article about it in the New England Patriot-Ledger this past weekend. As I looked further into the subject, I was surprised to find out that 14 states (Alabama, Arizona, Arkansas, Colorado, Connecticut, Florida, Iowa, Kansas, Massachusetts, New Hampshire, Rhode Island, Texas, West Virginia, and Wisconsin) still allow greyhound racing on a total of 40 racetracks. This means that there is still a lot of work to do in order to abolish this dog-unfriendly industry from our society. If you would like to get involved in banning commercial dog-racing in your state or if you are considering adopting a "retired" greyhound, please contact GREY2K USA.
For additional information on greyhound racing, check out PETA's comprehensive factsheet on the subject. Dogs deserve better than this.
Respond