Facials—Putting Your Best Face Forward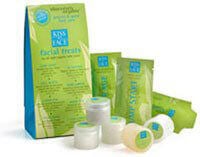 Facials are the perfect spa treatment to maintain your skin tone, keep your skin free of impurities, and refresh and rejuvenate your complexion and your spirits!
What You Will Need:
Cotton balls
Clean towel
5 cups boiling water
Bowl
CD player and relaxing CD (optional)
Cleanser: Arbonne International Cleansing Cream, Garden Botanika Balancing Gel Cleanser, Aveda Botanical Kinetics Purifying Gel Cleanser, or Kiss My Face Clean For a Day Creamy Face Cleanser 
Exfoliator: Arbonne International Facial Scrub, Aveda Botanical Kinetics Exfoliant, or Kiss My Face Start-Up Exfoliating Face Wash
Mask: Aveda Deep Cleansing Herbal Masque or Intense Hydrating Masque; Crabtree and Evelyn Hydrating Booster, Deep Cleansing and Purifying Mask, or Peel-Off Revitalising Mask
Toner: Arbonne International Toner, Aveda Botanical Kinetics Toning Mist, or Kiss My Face Flower Balancing Act Toner.
Note: Select a mask that's right for your skin type. Use a purifying mask for oily skin, and use a deeply moisturizing mask for normal or dry skin. Also, keep in mind that you will have to lie down once the mask is on.
Procedure:
Before you start: Set aside 30 minutes. To save time, boil the 5 cups of water needed for your facial steam while you're doing steps 1 and 2.
Tie your hair back. Wash your face with the cleanser, making sure to remove all makeup.
Gently apply the exfoliator to your face using circular motions. Rinse your face with water.
Now you're ready for a pore-opening, skin-purifying facial steam. Once the 5 cups of water are boiling, reduce the heat and simmer for 5 to 10 minutes, adding water as needed.
Put the water in the bowl, and place the bowl on a table or countertop. Make a "tent" over your head with the towel, and lean your face over the bowl, keeping your face about a foot away from the water. Don't lean too close, or you could scald yourself.
Keep the steam going for 10 to 15 minutes, and then rinse your face with cool water.
Gently press around any visible blackheads with your fingers or a special extraction device to get the impurities out. Put cotton on long nails to avoid scratching yourself.
Apply the mask, making sure to cover your entire face. Lie down, place cotton balls on your eyes, and relax. If you're in the mood, put on soothing music. Leave the mask on for about 10 to 15 minutes.
Rinse the mask off with lukewarm water. Apply the toner and then your normal moisturizer and eye cream.
Have a tall glass of your spa water, and admire your fresh new complexion in the mirror! Treat yourself to a facial every week or every other week.
For more information on cruelty-free living, please go here.
Respond