Live Export by the Wool Industry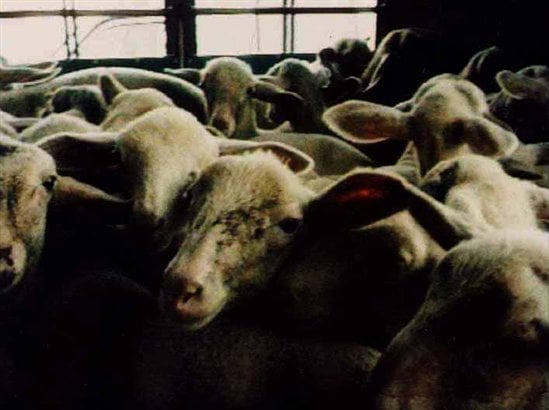 When sheep age and their wool production declines, wool farmers no longer have any use for them and discard them for slaughter. Every year, 4 million sheep endure the cruelty of live export from Australia to the Middle East and North Africa aboard filthy, multitier ships.
Sheep from Australia are slaughtered in the Middle East after enduring grueling journeys on extremely crowded, disease-ridden ships. The voyage can last weeks, and the sheep can be exposed to all weather extremes.
Many sheep fall ill or starve to death because they are unused to the pellet food provided onboard. Lame sheep are trampled, unable to lift their faces from the feces-laden floors. The extremely crowded conditions and heat stress can lead to diseases such as conjunctivitis ("pink eye") and salmonellosis.
While industry reports show the average shipboard mortality rate to be less than 1 percent—well below the "trigger level" that  would warrant thorough investigation—Meat and Livestock Australia reported that the individual ships' mortality rates ranged from nil to 28 percent in 2005. The report states that nearly 1 percent of the total sheep exported—approximately 38,000 sheep—died in transit, an increase from .75 percent in 2004. Nearly all the sheep were in transit to the Middle East. In most cases, their carcasses were thrown overboard.
Between August and October of 2003, more than 50,000 sheep suffered aboard the MV Cormo Express when the Saudi Arabian government refused to accept them. Too many of them were believed to be infected with "scabby mouth," a disease that results in sores and scabs around the animals' mouths. After nearly two months aboard this ship, with very little food and water—often in temperatures exceeding 100°F—the sheep were accepted for slaughter by the African nation of Eritrea.
When the survivors arrive at their destination, they are often dragged from the ships and thrown into the backs of trucks and cars. Eventually, most will have their throats cut while they are still conscious, as Halal slaughter standards dictate. Some sheep are slaughtered en masse in lots, while others are taken home and slaughtered individually by the purchasers. Muslim countries require that animals be slaughtered according to Halal regulations, but forcing animals to suffer long journeys aboard filthy, extremely crowded ships just so that they can be killed in a Muslim country is no longer necessary on account of the numerous slaughterhouses in Australia that possess Halal certification. There is simply no viable reason for live export.