Create Your Own Vegetarian License Plate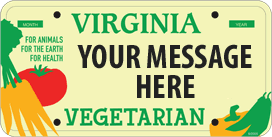 GIF >>
It's never been easier to spread the word about how great vegetarian diets are. You can hand out leaflets, sport a snappy vegetarian T-shirt, or even use your car! For years, PETA has offered fun things to adorn your ride, but now—in addition to the great bumper stickers and other cool items—you can create a personalized vegetarian license plate!
Just pop your info into the generator below and then grab the code to add it to your personal pages or your blog:
Customize Your Own Vegetarian License Plate
All fields in bold are mandatory.
By submitting this form, you are agreeing to our collection, storage, use, and disclosure of your personal info in accordance with our privacy policy as well as to receiving e-mails from us.
Respond