Have you left a legacy for animals through a planned gift to PETA?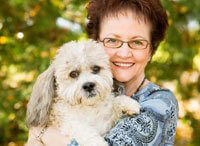 Thank you for including PETA's critical work for animals in your estate plans. We are honored by the trust you are placing in us to carry forward your legacy of compassion.
It would be our great pleasure to have you join the more than 4,500 extraordinary PETA members who constitute our Augustus Club. Please use the form below to let us know you have already included PETA in your estate plans. You can also e-mail us at PlannedGiving@peta.org, or call us at 757-962-8213 to become a member of our Augustus Club.
We encourage you to provide us with a copy of the relevant pages of your will, trust, or beneficiary designation form. All information will be kept in our secure files. The Planned Giving Department maintains confidentiality at all times. You can send this information to us at:
PETA
Attn: Planned Giving Dept.
501 Front St. Norfolk, VA 23510
757-628-0786 (fax)
Join PETA's Augustus Club
I/We have remembered animals and PETA in the following way:
(Fields in bold are required for verification purposes only, and all information will be treated confidentially.)
By signing up here and giving us your details, you are acknowledging that you've read and agreed to our privacy policy.
In This Section
General PETA Information