Internet Soup
Written by
March 18, 2011
|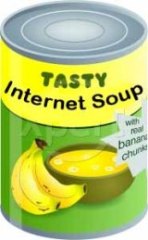 Animal-friendly is the new black, as evidenced by all the good news in our latest edition of Internet Soup. Enjoy!
The Wall Street Journal reports that PETA's Fashion Week parties are changing the fashion world from the inside out.
Going vegan is the latest glamourous trend.
Betty Crocker is no match for Vegenaise and Ener-G Egg Replacer.
Animal abusers have 500 new reasons to steer clear of Holland.
A dog's life is one we would all like to live at this French hotel.
Sticky Fingers vegan cupcakes crumble the competition on Cupcake Wars.
Sodexo's executive chef explains why the company's Meatless Mondays offerings are outselling their fatty competition.
A riveting animated video describes the dire plight of endangered bluefin tuna. This is not your kiddies' typical Saturday morning cartoon.
Written by Michelle Sherrow
Related Posts
Respond
Comments
If your comment doesn't appear right away, please be patient as it may take some time to publish or may require moderation.
By submitting this form, you are agreeing to our collection, storage, use, and disclosure of your personal info in accordance with our privacy policy as well as to receiving e-mails from us.