Leafleting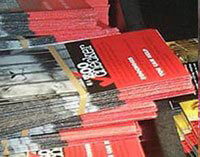 Ah, the art of leafleting! Handing out informative, well-designed leaflets is a great way to educate people about animal rights issues.
The first thing you'll want to do is figure out what you'd like to educate people about. The type of leaflet that you'll use will be determined by how you plan to use it. PETA has a variety of leaflets available at PETACatalog.com that you can order at cost, or you can download leaflets or make your own.
If you've uncovered an important local issue, create and print leaflets to hand out to people on the street. If you want to leaflet outside your local McDonald's to inform people of the cruel treatment of chickens by the company's suppliers, we'll send you all the materials you need. If you want to start a campaign urging local high school students not to dissect animals, create leaflets for the students or download or order PETA's anti-dissection leaflets. Get the idea?
If you're not sure what issue you want to leaflet about, or if you're unsure of what information to include in your own leaflets, contact PETA's Action Team for help!
Check out tips for creating your own leaflets.
In This Section