He heated up the screen in the critically acclaimed—and sexually charged—film Y Tu Mamá También, and he's doing it again in Dirty Dancing 2: Havana Nights. Mexican heartthrob Diego Luna is now touting the importance of safe sex—for dogs and cats—in a new PETA ad targeting the problem of dog and cat overpopulation by promoting spaying and neutering.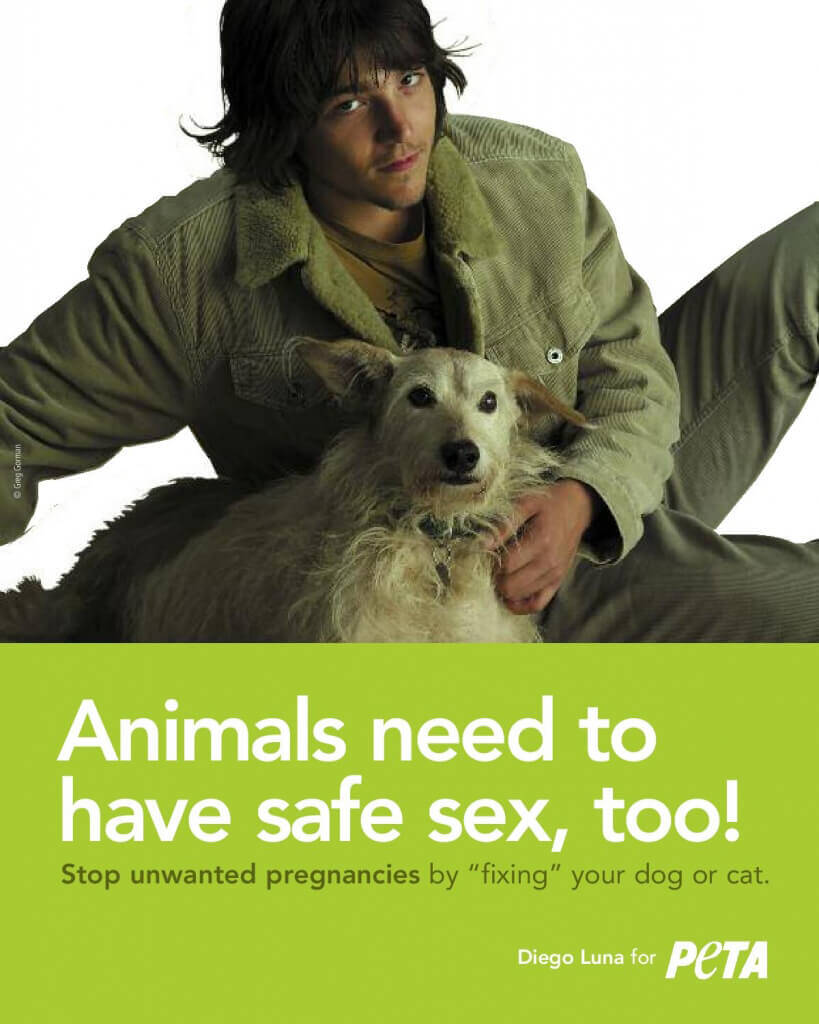 "Animals need to have safe sex, too!" Luna says in the campaign, in which he's pictured with his canine pal, Frey. He encourages people to stop unwanted pregnancies by "fixing" their animals so that they can't breed.
Why do Luna and PETA want everyone to spay or neuter their animals? One unspayed female cat can produce 36 cats in just one and a half years—an unneutered male can help create limitless litters of kittens. Every year, millions of unwanted dogs and cats are dumped at overcrowded animal shelters, where most are put to death. The less fortunate ones will be turned out to fend for themselves in all extremes of weather, lose battles with traffic and disease, have no constant food source, and perhaps even be stolen by laboratory dealers or used as bait by dogfighters. Simple surgery (spaying for females, neutering for males) is the solution.
"Dog and cat populations can get out of control quickly, which is why so many of them pour into local animal shelters," says PETA's vice president of communications, Lisa Lange. "Everyone wants to stop killing innocent dogs and cats, but the only way to make that happen is to neuter and spay."
The ad campaign will appear in newspapers and magazines this summer and is available in both Spanish and English versions.
You can improve the lives of dogs and cats suffering from cruelty and neglect. Click here to support PETA's work for companion animals.