Once upon a time, Chewy.com was a PETA favorite. We appreciate any companion animal supply store that doesn't support the cruel live-animal trade, which—until 2017—included the online retailer. But then it made a deal with the devil. Here are a few reasons why compassionate shoppers are choosing to support retailers that don't exploit live animals—and why you should be one of them:
1. Chewy.com Sold Out to PetSmart
Chewy.com sold its soul to PetSmart, the massive pet store chain that's notorious for selling animals who are wild-caught, captive-bred, and distributed by cruel suppliers.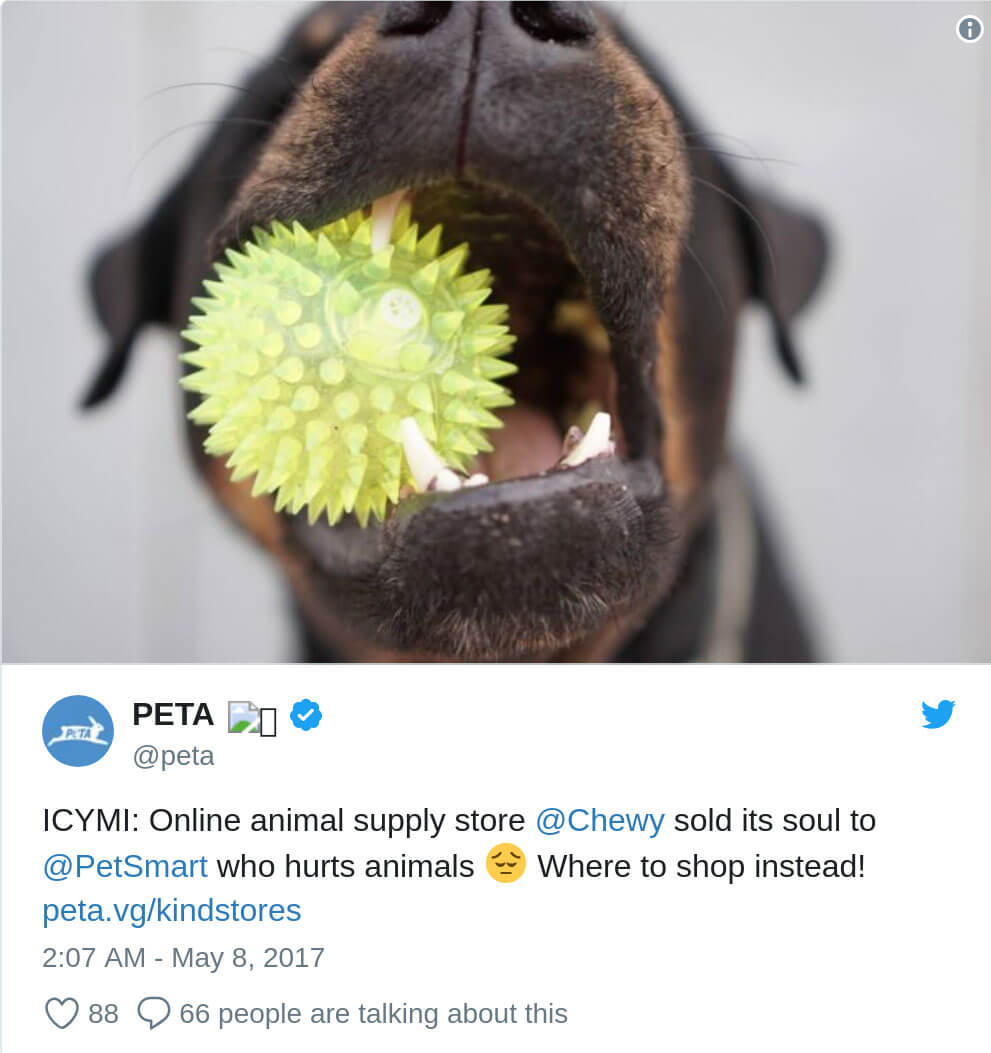 2. PetSmart Is Cruel to Animals (Exhibit I)
Chewy.com and PetSmart are essentially one and the same, which means that PetSmart's practices are Chewy.com's practices, which include selling live animals and denying them—even sick and injured ones—basic veterinary care. Just look at what PETA eyewitnesses discovered at Reptiles by Mack, an Ohio reptile mill that breeds and sells frogs, lizards, turtles, and other animals to PetSmart:
3. PetSmart Is Cruel to Animals (Exhibit II)
In a separate case, a PETA eyewitness documented that thousands of animals were confined to plastic bins stacked in shelving units like filing cabinet drawers at Holmes Farm, a massive animal dealer in Pennsylvania that sold small animals like hamsters and rabbits to PetSmart as well as Petco. Some animals were gassed to death by workers. Others slowly froze to death inside plastic bags that were placed in a freezer.
4. PetSmart Is Cruel to Animals (Exhibit III)
In addition to doing business with shady suppliers, a 2017 to 2018 PETA eyewitness investigation of three PetSmart stores across the U.S. found systemic neglect and widespread animal suffering. Managers at a Nashville, Tennessee, store repeatedly refused to provide sick, injured, and dying animals with veterinary care in order to "keep costs down" so that they would receive bonuses.
Following PETA's exposé, the three managers pleaded guilty to cruelty-to-animals charges.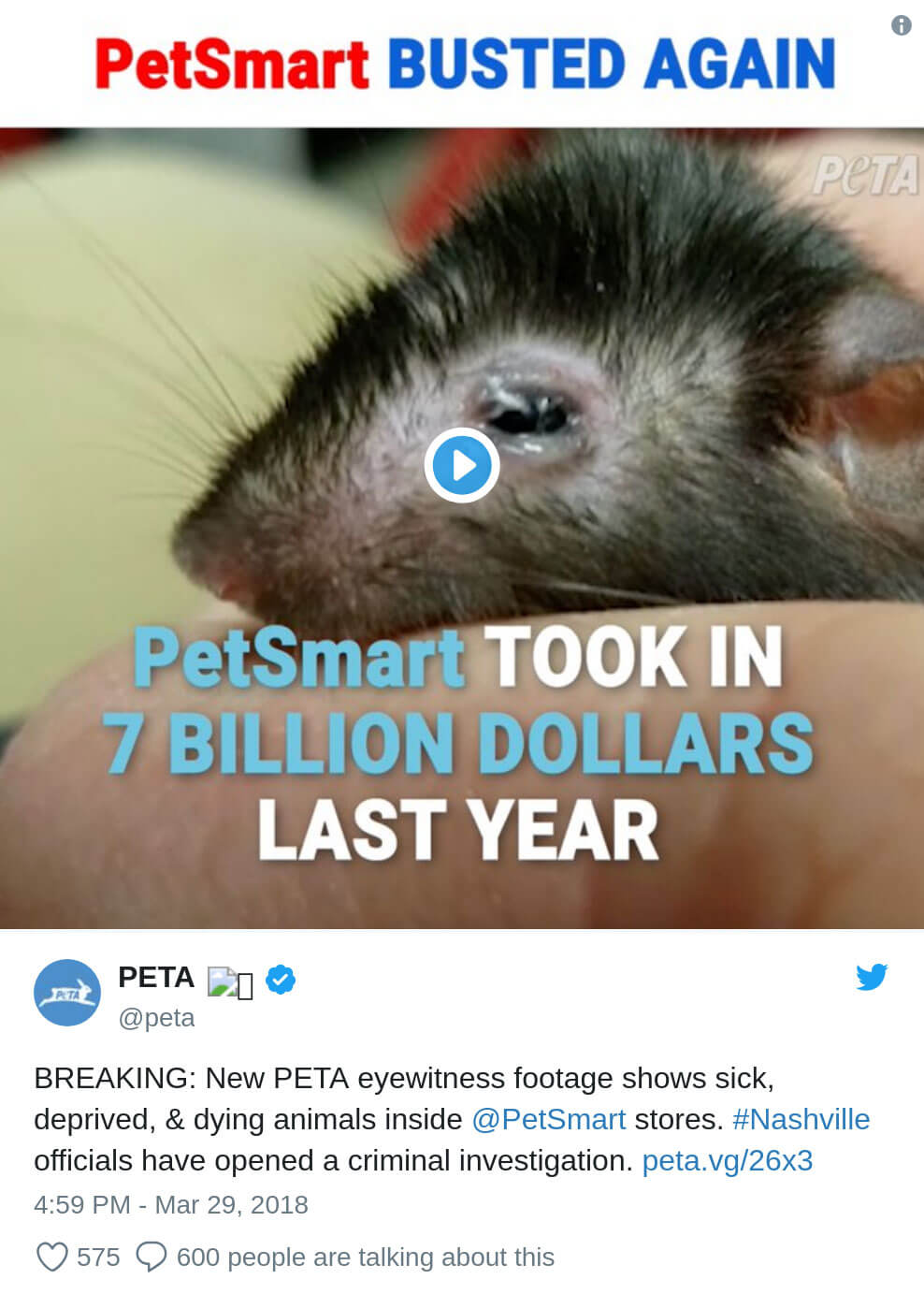 5. PetSmart Managers Abandoned Animals During Hurricane Irma
In 2017, despite having had ample notice of its threat, managers at a Brandon, Florida, PetSmart store failed to evacuate animals when Hurricane Irma hit the area. Workers returned four days later to find that several animals had escaped, others had died, and approximately 30 small mammals were without water.
6. A PetSmart Grooming Appointment Can Be a Death Sentence for Animals
Many dogs taken to PetSmart groomers have sustained horrifying injuries and even lost their lives. Take July, for instance, who almost lost her tongue after a PetSmart groomer cut it "damn near off." Of course, PetSmart blamed the dog, saying that she stuck her tongue out just as the groomer was trimming her face. But according to July's guardian, her tongue naturally always hangs out of her mouth—and it's one of the reasons she first noticed her.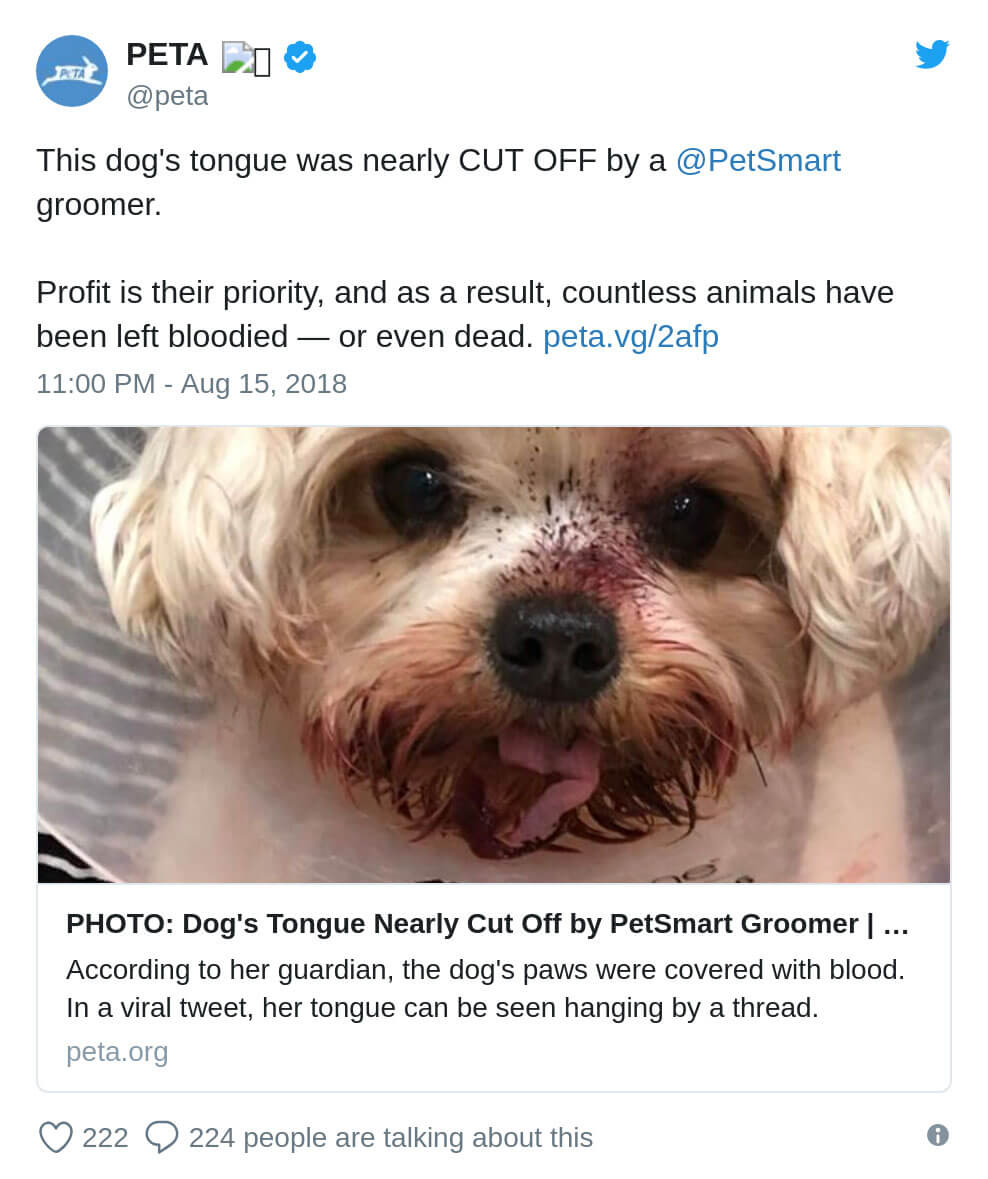 7. PetSmart PetsHotel = a Nightmare for Animals
Similar incidents have occurred at PetSmart's PetsHotel boarding facilities. Earlier this month, Rufus was dropped off at one in Tucson, Arizona. A few hours later, his family received a phone call—he had eaten plastic and was being taken to an emergency veterinarian. According to the family, the veterinarian told them that while on the way to the hospital, Rufus got loose from the PetSmart employee who was transporting him and was fatally hit by a car.
Chewy.com claims that its "success is measured by the happiness of the people and pets we serve," but there's nothing happy about the countless animals who've died while in its parent company's care. Keep reading to find out where you can compassionately buy all your animal companion necessities.
Companion Animal Supply Stores That Aren't PetSmart Sellouts
We get it—ordering supplies online for your animal companion makes life a lot easier, especially during extraordinary times like the coronavirus pandemic. Thankfully, many retailers haven't aligned themselves with animal exploitation. Target and Wag.com—an online Amazon.com boutique—are just two of them. Click below to discover 11 more:
Please, never buy from retailers that sell any live animals. Let PetSmart officials know that you'll support only businesses that don't sell animals: