Three big cats who were living in decrepit, unsanitary enclosures with rotten food are about to find proper care and enrichment at a new, lush sanctuary home—PETA's lawsuit win against Tri-State Zoological Park of Western Maryland, Inc., means a new chance at life for them.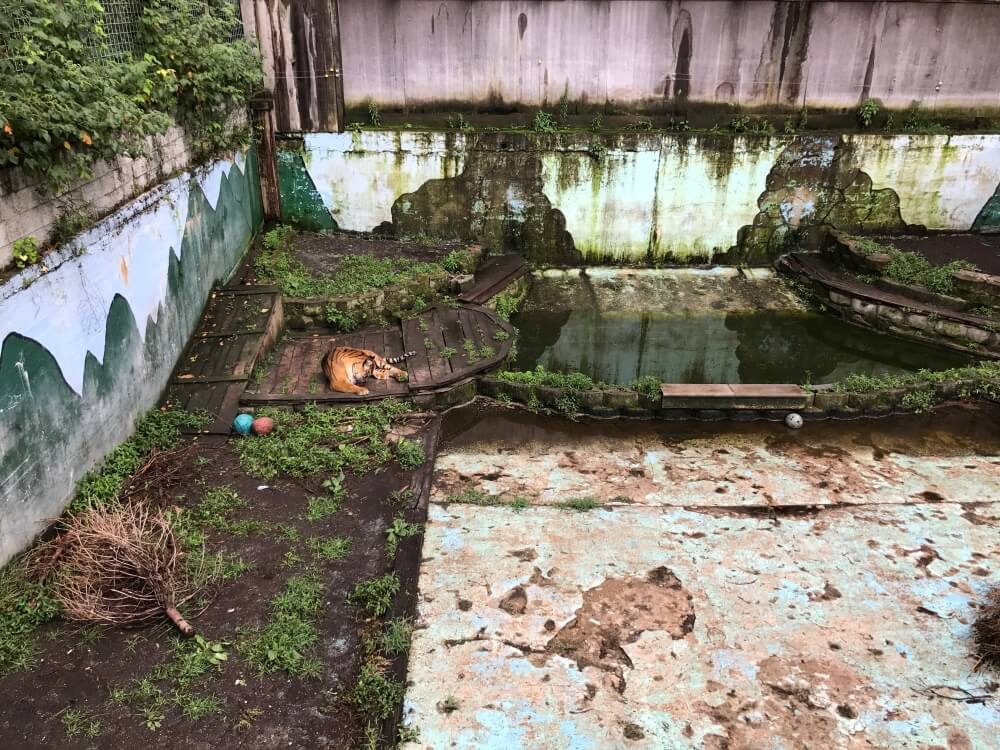 PETA went to Tri-State to facilitate the court-ordered transfer of tigers Cheyenne and Mowgli and lion Peka. With our help, they're on their way to The Wild Animal Sanctuary in Colorado (the same sanctuary that aided us in Dillan the bear's rescue).
We won our Endangered Species Act lawsuit against Tri-State after gathering overwhelming evidence of animal suffering over the span of several years. The presiding judge stated, "[T]he animals have been housed in fetid and dystopic conditions. Filth and feces dominate Tri-State."
The United States District Court for the District of Maryland ruled in PETA's favor on all claims presented at trial and has prohibited Tri-State from owning or possessing endangered or threatened species in the future. Although Tri-State has appealed, the appellate court recently rejected the facility's request to prevent Cheyenne's, Mowgli's, and Peka's transfer to The Wild Animal Sanctuary pending conclusion of the appeal.
Animals still at Tri-State live in a bacteria-ridden wasteland that's in stark contrast to their natural habitats.
Since PETA notified Tri-State of our intent to file suit in December 2016, five of the nine animals originally at issue in our lawsuit have died, including a lemur who had torn off the tip of his penis and a tiger named India who was so ravaged by sepsis that pus-filled pockets had formed in her heart, tongue, and diaphragm.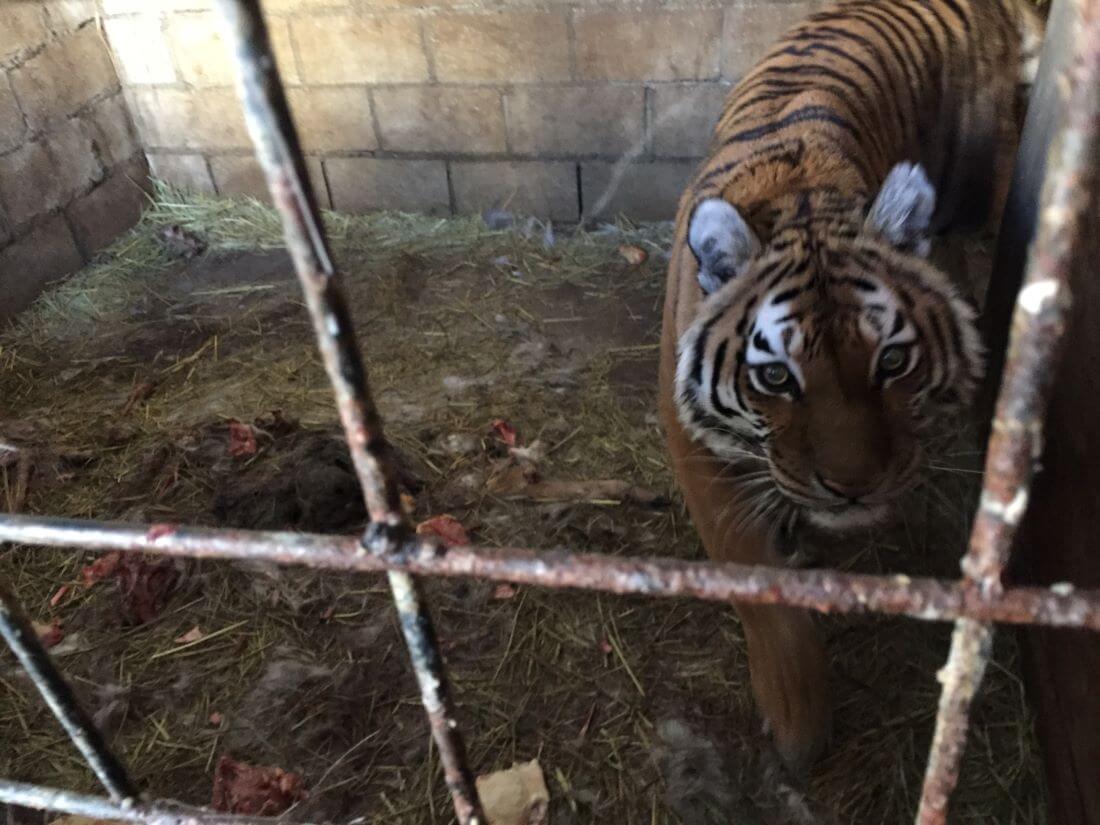 As stated in the court's order, PETA's evidence documented that there were animal feces throughout the zoo grounds: "in the kitchen where animal food is prepared, the room that houses the reptile exhibits, the grounds generally, and in each of the protected animals' enclosures." The memorandum further states, "Rotting vegetables spilled over large receptacles, decaying meat sat in piles outside the kitchen and in the furnace room under the nearby reptile house, and decomposing carcasses were left for days in the enclosures for the tigers and lions."
These three big cats are lucky to have survived.
Peka was taken from her mother and confined at Tri-State when she was just 2 days old. She lived in isolation since the death of a lion named Mbube in December 2016. She'd worn paths in the floor of her barren enclosure, which was devoid of meaningful enrichment, from repetitively pacing.
Mowgli is severely overweight and has suffered from an apparent skin condition for years. Video evidence presented at trial revealed his obvious discomfort as he continuously rubbed his coat across deteriorating wood in his damp enclosure.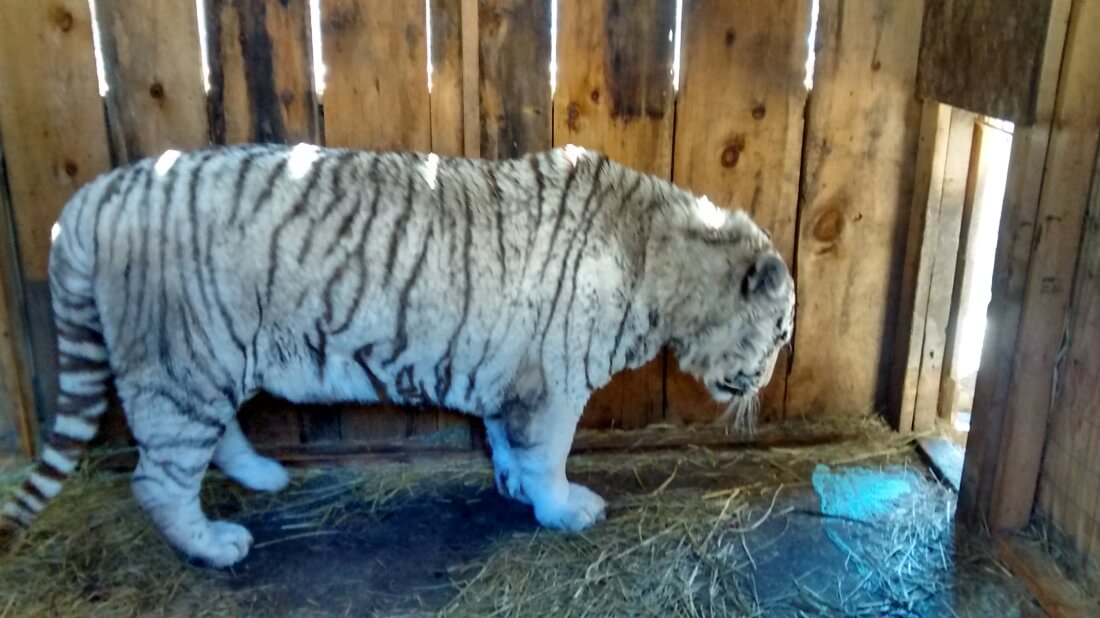 There's no evidence that Cheyenne, like Peka and Mowgli, ever received routine veterinary examinations or even recommended vaccinations. All three of her offspring died in the same deplorable conditions she was forced to endure.
We Need Your Help to Shut Down Tri-State
Approximately 117 animals are still languishing at this deplorable roadside zoo. Using our form below, urge Tri-State to close its doors and surrender the animals to reputable facilities, where they can get the care that they desperately need and live out their days in sanitary spaces with plenty of room to roam.