(Warning: graphic images)
Update: February 17, 2022
The gruesome animal killing during the Cobra Gold military exercises in Thailand has been nixed for the second year in a row, a top official has confirmed to PETA! Forcing military troops to kill chickens with their bare hands, skin and eat live geckos, consume live scorpions and tarantulas, and decapitate cobras and drink their blood was cruel, dangerous, and likely illegal.
These atrocities were halted in 2021 after PETA's release of shocking video footage and our exposé—which included formal complaints to top Marine Corps and Department of Defense officials, a rulemaking petition, a Naval Inspector General complaint, and protests outside the Pentagon, the Royal Thai Embassy, and the home of Secretary of Defense Lloyd J. Austin III.
PETA thanks the military officials who saw fit to protect their uniform and honor from dangerous Jackass Forever–style antics. 
Update: August 16, 2021
Wonderful news! Not a single animal was killed in survival training drills during Cobra Gold 2021, a massive joint multinational military exercise held in Thailand.
This victory comes after an intense campaign in which PETA and thousands of supporters urged the secretary of defense and the Marine Corps commandant to end the freakish behavior of Marines participating in the annual exercise, which included beheading snakes, killing chickens with their bare hands, eating live scorpions, and gutting live geckos. (More details are below.)
This should be the end of this frat-party-gone-wrong spectacle. PETA will be watching to ensure that that's the case.
Update: July 22, 2021
PETA has sent a letter signed by 19 military veterans to Secretary of Defense Lloyd J. Austin III urging him to end the cruel use of animals in purported survival drills held during the annual Cobra Gold event. (Read details below.) In the letter, the Army, Air Force, Marine, and Navy veterans write the following:
"Troops deserve the best training to survive in the outdoors, but Cobra Gold's use of live animals resembles a vulgar hazing ritual and doesn't deliver any practical survival skills. Rather, as the U.S. Marine Corps has admitted, the main objective of the activity has been to build camaraderie …. This goal could easily be achieved through other means that don't harm or kill animals. We urge you to end Cobra Gold's deadly, dishonorable, and dangerous use of live animals."
Update: July 15, 2021
PETA has sent a complaint to the U.S. Navy's Office of the Naval Inspector General urging it to end the use of animals in "survival" drills—gruesome frat party–like activities masquerading as military training—at the annual Cobra Gold event that the U.S. military co-organizes in Thailand. We're asking the Navy to sanction any officer in the U.S. Marine Corps—which is administered by the Navy—who orders Marines to participate in this bloodlust killing of animals.
In the complaint, we allege that the cruelty, which, in 2020, involved mutilating and eating live animals (see details below), causes extreme and unjustified suffering that would violate U.S. cruelty-to-animals laws. Therefore, these acts "bring discredit upon the armed forces," and commissioned officers who order troops to engage in them have participated in "conduct unbecoming an officer and a gentleman"—all in violation of the Uniform Code of Military Justice.
Update: February 17, 2021
PETA has filed a petition for rulemaking with the U.S. Department of Defense, urging it to begin regulatory proceedings to eliminate the cruel bloodlust killing of animals in the annual Cobra Gold military exercise in Thailand. In the petition, we provide numerous animal-free options for the purported survival training and point out that the killing and consumption of wild animals—some of whom are initially alive as they are being eaten—in Cobra Gold poses a dangerous zoonotic disease threat akin to the novel coronavirus.
Update: April 27, 2020
PETA wrote to Secretary of Defense Mark Esper, urging him to stop the crude killing of animals during the annual Cobra Gold military exercise and instead mandate widely available non-animal training methods. In the letter, we point out the cruelty of this practice and the danger that it poses to troops. The COVID-19 pandemic can almost certainly be traced back to human interaction with wildlife sold for consumption, and other diseases—including AIDS, SARS, and Ebola—originated because of human slaughter of wildlife. We also noted various military facilities that have suspended the use of live animals in survival training courses after prior discussions with PETA.
Originally published on March 3, 2020:
Jungles are full of fruits and other nutritious, edible plants—so why are U.S. Marines beheading snakes, guzzling their blood, and calling it survival "training"?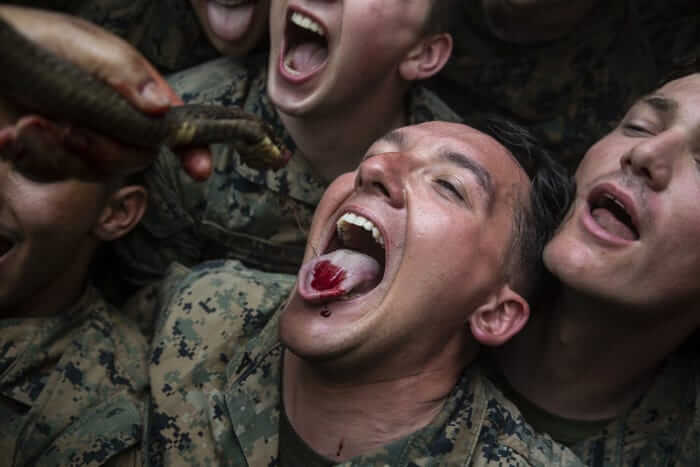 This ☝️ is what went on in the Thai wilderness at the annual joint military exercise known as Cobra Gold, and we're urging the commandant of the U.S. Marine Corps, Gen. David H. Berger, not to exploit animals for "survival training" again.
Today, we fired off an urgent letter to Berger asking him to end the cruel, crude use of live animals in any future Cobra Gold food procurement exercises and to use widely available non-animal training methods instead.
Included in their Cobra Gold "training," U.S. Marines reportedly kill chickens with their bare hands, skin and eat live geckos, consume live scorpions and tarantulas, and decapitate cobras and drink their blood. The scenes are almost frat party–esque, with some Marines celebrating and cheering one another on. Others apparently whipped out their phones to record the killings.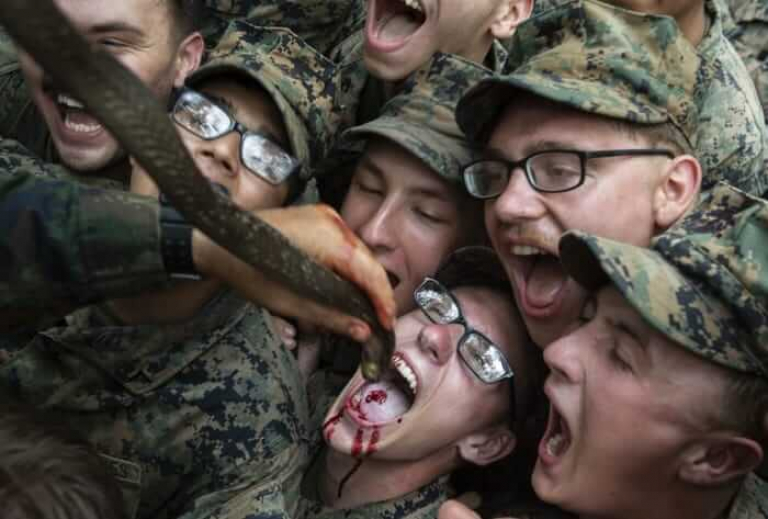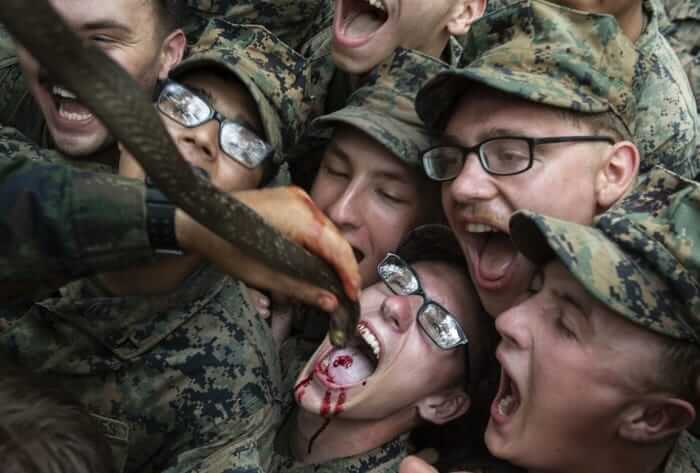 According to reports, Cobra Gold attendees were also trained to use jungle vines as a water source and to recognize edible plants. They should have stuck to this kind of humane "how to live off the land" training. No one needed to die for U.S. and Thai forces to strengthen their alliance.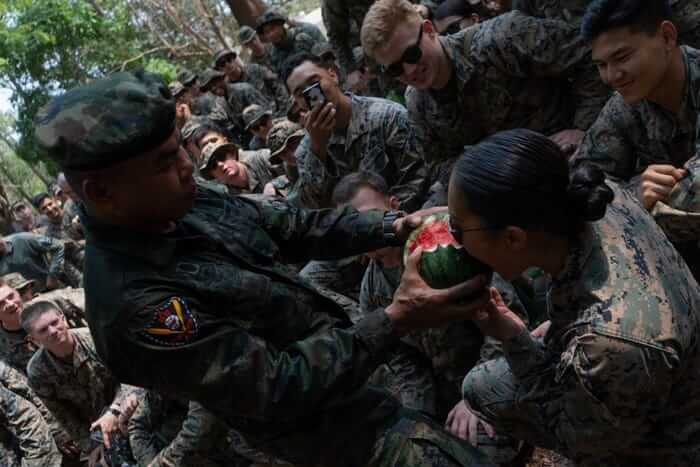 In 2016, after PETA exposed the apparent beating, killing, skinning, dismembering, and cooking of rabbits for "survival sustenance training" by cadets at the U.S. Air Force Academy, thousands of people joined us in urging the USAFA to end this practice. In 2011, the Marine Corps Mountain Warfare Training Center suspended the use of live animals in its survival training courses following discussions with PETA. And nearly three decades ago, the U.S. Army's Dugway Proving Ground canceled a survival skills training course using animals after PETA asked then–Defense Secretary Les Aspin to intervene.
There's an abundance of training options that don't harm any animals, including those in the book Primitive Wilderness Skills, Applied & Advanced, in which the authors—having themselves trained U.S. Army Survival Evasion Resistance Escape (SERE) instructors—explain how to obtain food in nature.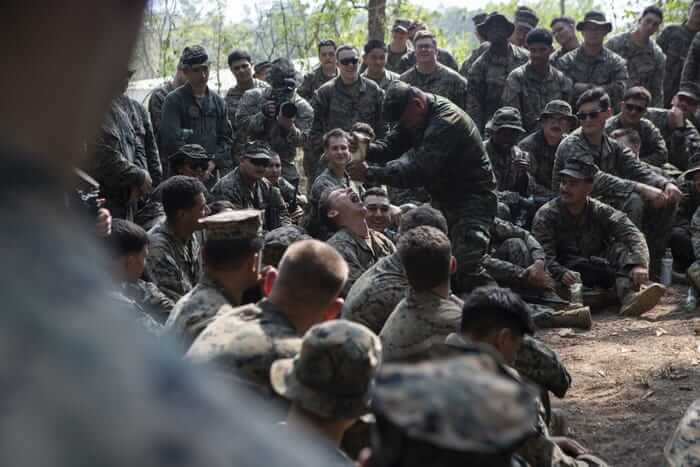 SERE specialists are already using virtual reality to prepare Air Force pilots for worst-case scenarios, and interactive video games that have food procurement components are now on the market.
The video series Prepared to Survive, which is hosted by Gretchen Cordy (a former Air Force survival instructor who appeared on the CBS show Survivor), also demonstrates how to survive in nature without killing and eating animals.
Clearly, there are precedents for troops to learn food procurement survival skills without having to use live animals in abhorrent training drills.
PETA participates in the Amazon Services LLC Associates Program, an affiliate advertising program designed to provide websites with a means to earn advertising fees by advertising and linking to Amazon.com.