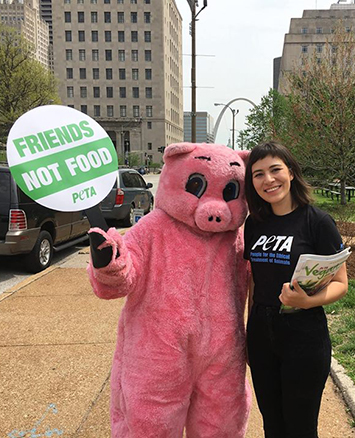 Name: Katerina Davidovich
Position: Media Campaigner
E-Mail: [email protected]
Facebook: Facebook.com/KatIsVegan
Where do you work? I work out of PETA's Bob Barker Building in Los Angeles, but my role as a campaigner takes me all over the United States.
Do you have companion animals? I have two extremely spoiled rescued cats named Simon and Mazzy.
What's the best part about your job? I love meeting other organizers and activists all over the country. It's so inspiring to meet people who are effecting real change for animals, both nationally and within their own communities. I've made friends for life while traveling with PETA, and their grassroots work motivates me to be a better, more effective advocate for animals.
What's the hardest part about your job? It's easy to feel overwhelmed or hopeless when confronted with so much animal suffering in every aspect of our society—but whenever I start to slip into that toxic line of thinking, we have another victory for animals that reminds me how valuable and necessary our work is. A few years ago, Ringling Bros. and Barnum & Bailey Circus seemed almost unbeatable—but finally, after 36 years of PETA protests, the "Cruelest Show on Earth" ended. And we're coming for SeaWorld next. 😉
Best memory at PETA: In 2014, I disrupted a presentation by BCBGMAXAZRIA's chief creative officer to urge the company to spare mink, foxes, and other animals suffering on fur farms by going fur-free. A few years later, the company announced that it would no longer sell fur or angora wool!
What do you like to do when you're not at the office? I love to read, ride my bicycle, snuggle with my kitties, and go to shows.