Orlando residents Bryan and Carla Wilson never stop speaking out for animals, whether that means working with the Orange County Board of Commissioners to ban the continuous chaining of dogs, organizing demonstrations against circuses that use animals, or spreading the word about the health benefits of humane vegan meals. In recognition of their tireless efforts to help animals, PETA sent the Wilsons an Outstanding Activists Award, and we wanted to share the Wilsons' inspiring stories and outlook on animal rights. Check it out!
When did you first get involved in animal rights, and why?
We got involved in 1996 after attending the March for Animals in Washington, D.C., not knowing anything about animal rights. We watched a slaughterhouse video that showed pigs who were killed, and we both went vegetarian immediately. We both had a love for dogs and cats but never took it that one step further and thought about the suffering of animals raised for food.
How did you meet each other? And how long have you been married?
We worked together in the mall when we were going to school in 1991. We will have been married 20 years in June.
What types of activism do you commonly take part in?
It's more like, "What types of activism don't we take part in?!" There are so many ways to be a voice for animals. We hit the streets for protests, leafleting, public giveaways of delicious vegan food samples, and information tables, and we attend public meetings of local government bodies and meet with our elected officials to discuss animal issues. We set up library displays and use any and every way we can to speak out for animals.
Can you tell us about your most recent projects and demos?
We worked with our local commissioners to enact legislation outlawing the continuous chaining of dogs in the county that we live in, and we have been working with activists in other communities to pass similar ordinances in their areas. We hold regular protests outside pet stores that sell puppies and encourage the public to adopt animals, not buy them, and any time a circus that uses animals comes to our area, we are there to educate the public about the truth behind the use of animals for entertainment.
Do you live with any companion animals? If so, please tell us about them.
We share our home with several rescued cats. Our alpha cat is Carmine, who rules the house and is in charge of everyone, including us!
Where is your favorite place to eat in your hometown?
Garden Café, the longest-running vegetarian restaurant in Orlando, has great Asian-style dishes. Also, Ethos Vegan Kitchen's vegan pancakes during its weekend brunch are to die for (except no one had to)!
What is the most common question that you hear about animal rights, and how do you normally address it?
"I didn't see any abuse at the circus. They treat the animals fine." People who attend circuses and other forms of entertainment in which animals are used sometimes just don't know about the abuse that the animals endure. That's where we come in! If people see us outside with signs, leaflets, bullhook displays, and videos as they are going in, it makes them keep their eyes open for what is really happening during the shows. We explain that behind the glitz and glamour is another world—one of suffering for the animals involved. We point out that those making money off the backs of animals are not going to abuse them in front of their audience but that undercover investigations have revealed abuse time and time again.
Is there a specific animal rights issue that you feel most driven to address? If so, why?
It's hard to pick just one! The issue of raising animals for food is such an important one because so many animals are suffering on such a large scale. If we can make one person think about his or her food choices, we believe that person will eventually change his or her ways, and that can have a ripple effect, causing others to change in response. Greyhound racing is also important to us. We adopted our first greyhound before we attended the animal rights conference that first caused us to consider how our choices affect animals. Florida has more greyhound tracks than anywhere else in the country. We work closely with greyhound advocacy groups, helping with education and legislation.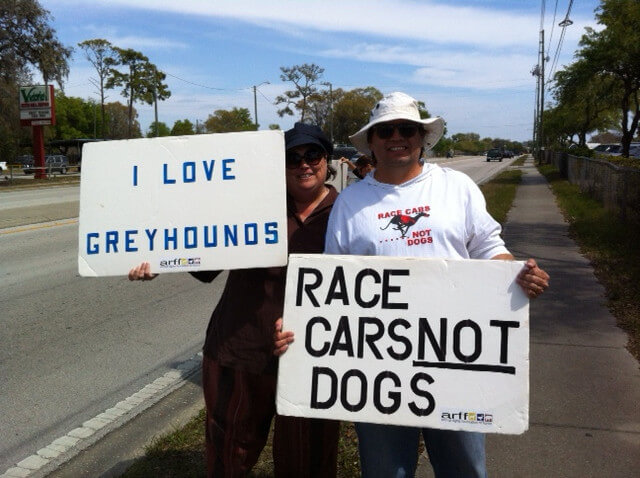 Can you tell us about a moment that was especially important to you as an activist?
Whenever anyone attending a circus comes out and says, "You are right" or "This was our last circus," it's a great moment. During Ringling Bros.' four-day annual visit to Orlando, we hear these kind of things a lot. People even leave, tearing up their tickets. And how many people will they tell about what they've learned? It's all about spreading compassion!
Do you have a favorite tip for easy activism?
Carry leaflets in your car, and leave them everywhere! We leave them in shopping carts, gas-pump handles, bathroom stalls, tubes at the bank drive-thru, the envelopes with our bill payments, and more!
Inspired to help animals?