Stuffed Squash Entrée for a Last-Minute Thanksgiving Menu
The following article was written by Keegan Baur.
Did you wait until the last minute to plan your Thanksgiving meal? Are you scrambling to put the menu together, wondering if stores are sold out of delicious faux turkey products? Fear not, because this Savory Stuffed Squash recipe is a scrumptious option that will fit in with the rest of your holiday spread.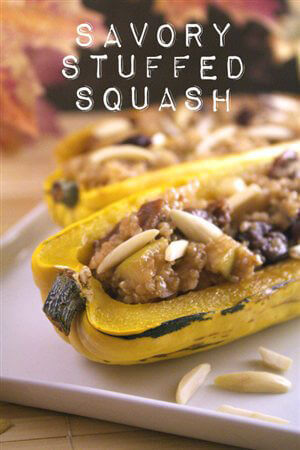 The following is adapted from Vegan Yum Yum.
Savory Stuffed Squash
4 delicata squash
Olive oil
Sea salt
2 1/2 cups vegetable broth
1 cup dried cherries, or dried fruit of your choice
1 Granny Smith apple, finely diced
1/3 cup slivered almonds, or nuts of your choice
1 tsp. Earth Balance margarine
1 cup uncooked quinoa
For the dressing:
3 Tbsp. agave nectar
3 Tbsp. Dijon mustard
1/4 tsp. sea salt
or
6 Tbsp. raspberry vinaigrette
Preheat the oven to 400ºF.
Cut each squash in half lengthwise and scoop out the seeds and flesh. Lightly brush the insides with olive oil and sprinkle sparingly with salt. Place, cut side down, on a baking sheet lined with parchment paper and bake for 30 minutes.
In a small stock pot, combine the vegetable broth and dried cherries and cover tightly. Bring to a boil and turn off heat.
Add the apple and almonds to the broth. Let stand until the apples are softened, about 5 minutes.
Pour the mixture through a strainer, setting aside the solids in a bowl. Pour the liquid back into the pot. (The liquid should equal 2 cups. If you have more, pour off the excess. If you have less, add more broth.)
Add the margarine to the pot and bring to a boil. Add the quinoa and return to a boil. Cover and cook over medium heat for 12 minutes or until the grains have absorbed all the liquid. Remove the pot from the heat and fluff the quinoa. Cover and let stand for about 15 minutes.
Remove the squash from the oven and, with a spatula, carefully transfer to a plate or serving dish.
Add the quinoa to the apple/cherry/almond mixture and stir thoroughly.
If you are making your own dressing, combine the agave nectar with the mustard and salt. Raspberry vinaigrette is a lighter-tasting option.
Pour half of the dressing over the quinoa, mix, and then fill each squash with the mixture. If desired, drizzle the remaining dressing over the squash.
Top with a few extra dried cherries and almonds. Serve immediately.
Makes 8 side dishes or 4 main dishes
Check out our other stuffed entrée recipes:
Take a look at our holiday menus for more ideas!
Related Posts
Respond
In This Section