Pump Up Your Workouts With Vegan Protein Powder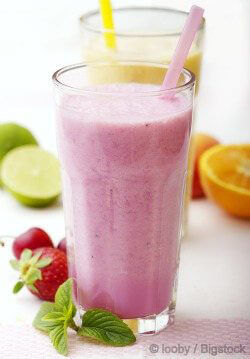 The following article was written by Keegan Baur.
One of the most common questions that vegans and vegetarians get is, "But how do you get enough protein?" This question comes up a lot, especially for those of us who regularly work out and tone up. Trainers have advised me to consume at least 1.5 grams of protein per kilogram of body weight on a strength training day. Even as a regular visitor at the gym, this ratio seems a bit excessive for an average woman like me, who's not aiming to start a career as a body builder. However, it is important to provide your body with an adequate amount of protein after an intense workout.
Luckily, there are many protein-packed and cruelty-free powders to choose from. Just to name a few options, there's pea protein, hemp protein, rice protein, soy protein, and a number of blends. Frankly, the first time I looked at all the options that my local Whole Foods Market had to offer, I became overwhelmed by the choices. Since then, I've tried a few different kinds, and as of right now, hemp and blends are at the top of my "favorite protein powders" list.
Hemp Pro 70 really fills me up. Because of the "full" feeling it gives me, I'm not surprised to hear that hemp is one of the most complete plant-based proteins around. I don't like to mix it with only water or soy milk because I don't find it to be very palatable on its own. However, hemp protein is what I grab when I've had a super intense workout because it's such a high-quality option. And it tastes nutty and fabulous mixed in my oatmeal!
At the same time, I can't deny the fact that I have a pretty mean sweet tooth. I can't resist sugary-tasting treats, especially when they're actually good for me. If you're with me on this one, then protein blends are probably the way to go. For example, Genuine Health Vegan Proteins+ Powder contains pea protein isolate, brown rice protein concentrate, cranberry protein, alfalfa protein concentrate, and hemp seed protein. All those types of protein in there and yet this powder is simply tasty. When mixed in a smoothie, something about it reminds me of a mystery sweet from my childhood. I can't quite put my finger on what it reminds me of. Is it Kool-Aid? Is it some sort of Popsicle? I'm not sure, but whatever it is, I love it.
As of right now, those are my favorites. I admittedly have yet to try a purely pea protein, but I do plan to get around to it. Like I said—there are just so many to try! The point is that being vegan doesn't mean you have to compromise your workouts or your post-workout protein boosts. You can be vegan and easily maintain your heart-rate monitor wearin', treadmill runnin', barbell liftin' gym-junkie status.
What's your favorite vegan protein powder, and what do you love about it?
Related Posts
Respond