Butternut Squash, Brussels Sprouts, and Bread Stuffing with Apples
Written by
November 20, 2013
|
Stuffing has always been my favorite part of Thanksgiving dinner. When I realized the gross way in which stuffing is traditionally cooked, I was put off, to say the least. Luckily, there are a lot of cruelty-free vegan stuffing options out there that don't call for being cooked inside a turkey. This one is extra-delicious and definitely something to be thankful for.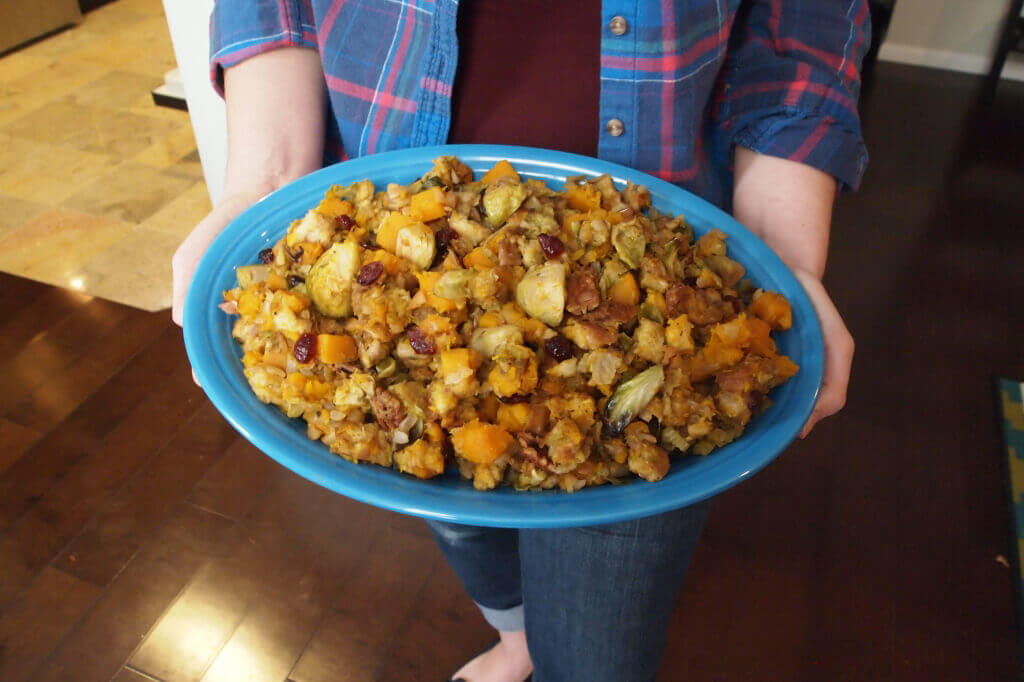 Butternut Squash, Brussels Sprouts, and Bread Stuffing with Apples
Adapted from Food52
1 lb. butternut squash, cubed
1 lb. Brussels sprouts, halved
1 medium Gala apple, diced into 1/2-inch cubes
2 shallots, thinly sliced
3 Tbsp. olive oil
Sea salt and pepper, to taste
1 cup diced onions
1 cup diced celery
10 slices crusty vegan sourdough bread, dry cornbread, or whole-grain bread, left out for a day and cut into cubes
1 1/2 cups vegetable broth, plus more as needed
1/3 cup dried cranberries
1/3 cup pecans or walnuts
2 tsp. chopped fresh rosemary
1 tsp. fresh thyme
1 tsp. chopped fresh sage
Preheat the oven to 400°F. Toss the squash, Brussels sprouts, apple, and shallots in 2 tablespoonfuls of the oil and season well with salt and pepper. Roast until the vegetables are very tender. Remove from the oven and reduce the oven temperature to 350°F.
Heat the remaining oil in a large pot. Sauté the onions and celery until translucent, about 5 to 8 minutes Add the bread cubes and cook until golden brown. Add a dash of salt and pepper.
Add the roasted vegetables, vegetable broth, cranberries, pecans, and seasonings. Stir until the bread absorbs almost all the broth. Transfer to a baking sheet and bake at 350°F for about 20 minutes. Serve hot.
Makes 6 servings
Related Posts
Respond
In This Section