Laura Vandervoort Asks, 'Whose Skin Are You In?'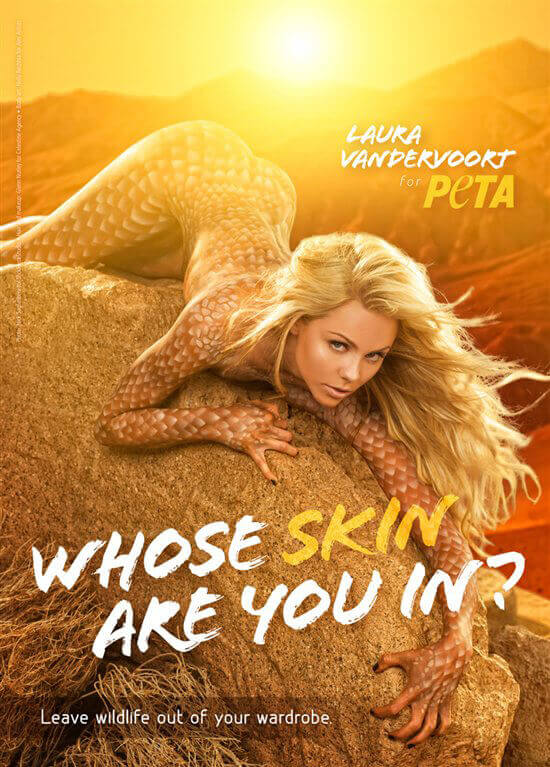 Actor Laura Vandervoort portrays the world's only female werewolf in her Syfy show, Bitten. But she also had previous experience getting in touch with her animal nature when she joined PETA's campaign urging consumers to leave wildlife out of their wardrobes. Her body painted to look like a lizard's (which isn't a huge departure for her—Laura appeared in the ABC TV series V as a lizard),  is drawing attention to reptiles turned into fashion accessories by asking, "Whose skin are you in?"
By appearing in her PETA ad as a majestic lizard basking in the sun, Laura reminds us how beautiful reptiles are in their natural habitats—and that that is where they belong. Lizards are fascinating animals with unique traits. Most lizards can shed their tails and run, twisting their bodies from side to side, to evade predators. Some lizards run on their back legs, and some can even run on water! Lizards are known to live up to 33 years in the wild, but lizards killed for their skins are usually clubbed on their heads or have their spines severed with chisels as soon as they reach "marketable" size.
See another version of Laura's sexy reptilian ad for PETA here!
In an exclusive interview with PETA, Laura says, "A lot of people think that reptiles don't feel and they do. I think everyone should keep in mind what it is they are buying and if it is really worth it to them." Watch her interview below to find out what inspired Laura to participate in this campaign.
Fake snake, moc croc, and pleather are a few realistic and luxe-looking materials that can help you achieve a great look—without wearing someone else's skin. Popular retailers such as Victoria's Secret, H&M, Overstock.com, Cole Haan, and Nike have all signed PETA's pledge never to sell exotic skins. Check out PETA's Cruelty-Free Clothing Guide to help you make compassionate shopping choices.
Respond