Cherokee Bear Zoo Slapped With Citations, Fines After PETA Complaint
Written by February 6, 2014
|
PETA has learned that, following our October 2013 complaint, the U.S. Occupational Safety and Health Administration has cited and fined the notorious Cherokee Bear Zoo for multiple violations of federal laws protecting workers, including allowing workers to come into direct contact with bears during feeding and cage cleaning. Video footage and photographs taken last year and supplied to OSHA by PETA show zoo attendants standing inside concrete pits, each containing multiple bears, with no barriers of any kind to protect them. This is an especially dangerous situation considering that the extreme stress and deprivation that these bears experience can increase their aggression—making them ticking time bombs.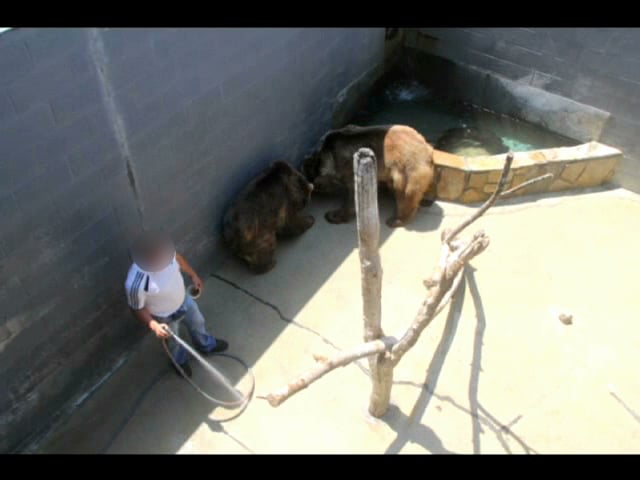 Bears at this North Carolina roadside zoo are imprisoned in concrete pits so deep that they can't see over the walls to the trees beyond. The pits are virtually barren except for some tree branches and apparently dirty pools that serve as both their drinking water and bathtubs. Such deprivation causes bears to become anxious and frustrated, and most develop neurotic behavior, such as pacing constantly or bobbing their heads.
The Cherokee Bear Zoo is a true hellhole for both the animals locked up there and for its workers. Please urge Cherokee Bear Zoo's owners to close these inhumane bear pits for good.
Related Posts
Respond
Comments
If your comment doesn't appear right away, please be patient as it may take some time to publish or may require moderation.
By submitting this form, you are agreeing to our collection, storage, use, and disclosure of your personal info in accordance with our privacy policy as well as to receiving e-mails from us.