Pumpkin Muffins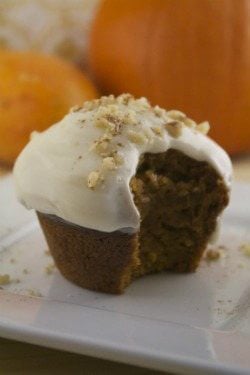 The following article was written by Keegan Baur. 
Ready for the pumpkin parade? If you're like me, pumpkin is currently the must-have ingredient for almost every dish you make. Pumpkin-stuffed ravioli, pumpkin smoothies, pumpkin hummus, pumpkin-cinnamon rolls—they're all on my to-do list for October. I recently picked up an assortment of mini-pumpkins from the grocery store, in addition to jack-o-lantern lights, garlands of colorful artificial leaves, and autumn-inspired scented oils for my apartment. Can you tell that fall is, by far, my favorite season?
This past weekend, I relaxed in my newly decked-out home, while watching You've Got Mail and savoring some delicious pumpkin muffins that I adapted from PETA's recipe database. Figuring that everything tastes better with frosting, I also whipped up a cream cheese frosting to go along with the muffins—but I was surprised to find that I prefer them without. Leaving the muffins as is truly lets the star ingredient—pumpkin, of course!—shine through. I'll let you decide which version you prefer. Either way, these babies are so good, when you taste one you'll think you've died and gone to pumpkin heaven.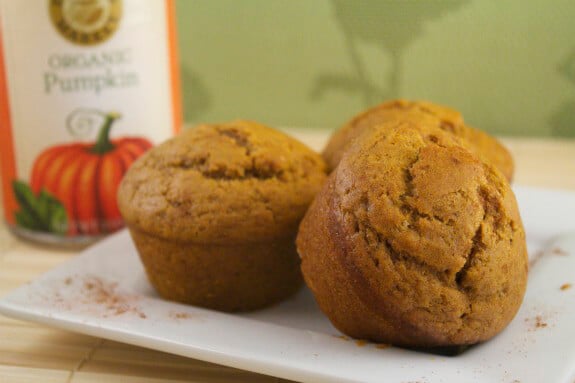 Pumpkin Muffins
2 cups all-purpose flour
1 Tbsp. baking powder
1/2 tsp. baking soda
1 1/4 cups sugar
1/2 tsp. salt
1 tsp. cinnamon
1/2 tsp. nutmeg
1/2 tsp. ginger
1/2 tsp. allspice
1 1/4 cups puréed pumpkin
1/2 cup nondairy milk (I use almond milk)
1/3 cup vegetable oil
2 Tbsp. molasses or maple syrup
Preheat oven to 375°F and lightly grease a muffin pan.
In a large bowl, mix the flour, baking powder, baking soda, sugar, salt, and spices.
In a separate bowl, whisk together the pumpkin, nondairy milk, oil, and molasses or maple syrup.
Pour the wet ingredients into the dry and mix.
Spoon the batter into the muffin pan, filling each cup to the top.
Bake for 25 to 30 minutes or until a toothpick inserted in the center comes out clean.
Remove muffins from the oven. When they've cooled to room temperature, frost them (optional) and devour!
Variation: Add a cup of chopped nuts, dried fruit, or vegan chocolate chips to the batter.
Makes 12 muffins
1/4 cup vegan margarine, softened
1/4 cup vegan cream cheese, softened
2 cups confectioners' sugar
1 tsp. vanilla extract
Place the vegan margarine and cream cheese into a bowl and combine with a handheld mixer.
Slowly add the sugar in 1/2-cup batches.
When the mixture is smooth and creamy, add the vanilla.
Keep the frosting tightly covered and refrigerated until ready to use. (I suggest leaving in the fridge for at least 10 minutes before frosting your muffins.)
Happy fall, everybody! What recipes—new experiments or old favorites—are you excited to make this season?
Respond