Mayim Bialik's Tomato Soup With Israeli Couscous Recipe
Written by
February 25, 2014
|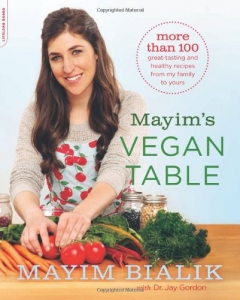 Emmy-nominated actor Mayim Bialik has released a family-friendly vegan cookbook, Mayim's Vegan Table. Featuring more than 100 plant-based recipes, this book is perfect for those who are looking for inexpensive, healthy meals to feed the whole family. Both of Mayim's sons have been raised vegan from birth, and she infuses the cookbook with personal tips on raising children in a plant-based household. Mayim's Vegan Table also features a ton of kid-friendly meal ideas as well as some of her strategies on meal planning and eating out. Get your copy today!
2 Tbsp. olive oil
1 onion, chopped
1-2 carrots, diced
1 14-oz can chopped tomatoes
6 1/4 cups vegan vegetable stock
1-1 1/2 cups uncooked Israeli couscous
2-3 mint sprigs, chopped, or several pinches dried mint
1/4 tsp. ground cumin
5 sprigs cilantro, chopped
6 cloves garlic, roughly chopped
Salt and freshly ground pepper, to taste

Heat the olive oil in a large pan, add the onion and carrots, and cook over medium-low heat for about 10 minutes until softened. Add the tomatoes, vegetable stock, couscous, mint, cumin, cilantro, and half the chopped garlic.
Bring to a boil, add the remaining garlic, then lower the heat slightly and simmer gently for 7 to 10 minutes, stirring occasionally, or until the couscous is just tender.
Season to taste with salt and pepper.
Notes
This recipe was adapted from 'Mayim's Vegan Table: More Than 100 Great-Tasting and Healthy Recipes From My Family to Yours' by Mayim Bialik with Dr. Jay Gordon. Reprinted courtesy of Da Capo Lifelong Books.
Servings: 4 to 6
Related Posts
Respond
In This Section